Salvencia Cheese USA endows ISU student scholarship to develop next generation of cheesemakers and dairy innovators
October 29, 2019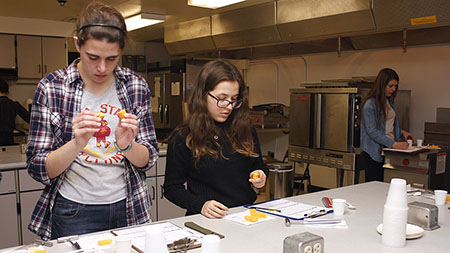 Salvencia Cheese USA endows ISU student scholarship to develop next generation of cheesemakers and dairy innovators: Savencia Cheese USA has established the Dorothy Demeter – Savencia Cheese USA Undergraduate Scholarship, honoring the first woman to receive a dairy science degree from Iowa State University and highlighting the potential of women to succeed in dairy foods careers.
Savencia's $50,000 commitment will create an endowed scholarship at Iowa State, providing support to outstanding students majoring in dairy or food science with consideration for those interested in cheesemaking.
With the resurging interest in artisan cheeses and premium ice cream, Iowa State is reviving its tradition of research and teaching in cheesemaking, with leadership from Stephanie Clark, an internationally recognized dairy food scientist in food science and human nutrition. Read more in an Iowa State University Foundation news release.
Read More
Announcements