Abigail Batson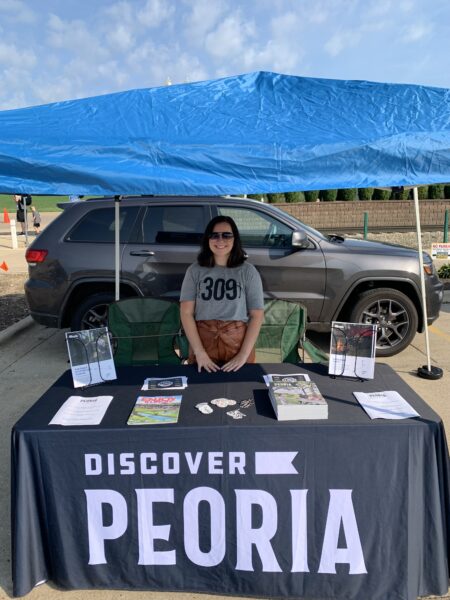 Responsibilities
As the marketing and events intern at the Peoria Area Convention and Visitors Bureau, I was in charge of multiple tasks that included both event related experiences and marketing/public relations experiences. I was in charge of running our calendar of events on the website. This included researching area events, approving submitted events and creating listings for our company events. I also took part in creating TikTok's for member businesses in the seven county region that we service. I was tasked with writing blogs for the website about things to do in the Peoria area and interviewing area businesses. I worked set-up, execution, and tear down of events and trade shows that our company was a part of. Finally, my main project for the summer was curating themes and executing our informational booth at the Peoria Riverfront Market every Saturday. I also created media and marketing materials to handout at the booth.
Accomplishments
My greatest accomplishment during my internship was reaching and passing the two SMART goals that I set for myself and the Discover Peoria booth at the Riverfront Market. These goals included adding over 350 new people in eight weeks to our email list for engagements and seeing my engagements at the market continue to improve by at least 15 people each week. However, I did find seeing my blogs and interviews being published and reaching so many people on our social media very rewarding as well.
Learning experience
The greatest lessons I learned from my internship included never being afraid to put yourself out there and network with people. I would have never found the internship I did if I hadn't reached out first. I also learned that communication is very important in our line of work because we work with so many different types of people and our career is relationship focused. Finally, I learned that getting the best experience means getting the most experience and learning to diversify yourself.
What advice would you give?
One piece of advice that I have for students in my major is similar to my answer for lessons I learned this summer. Never be afraid to be the first one to speak, introduce yourself to as many people as you can and learn to be open to different types of people and experiences. You will gain so much knowledge and possibly even a love for an area of events that you didn't know you had.
Career Connections