Alyssa Brascia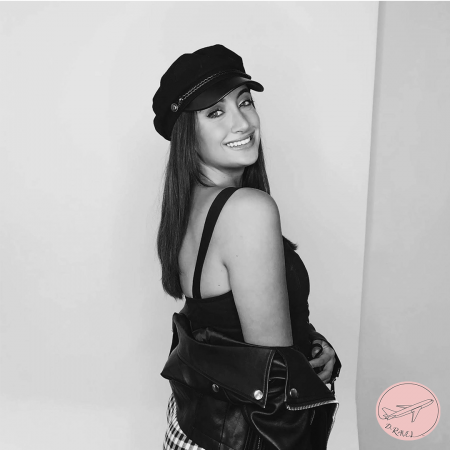 Responsibilities
A myriad of exciting editorial and graphic design responsibilities. Some of these included creating social media and promotional graphics, designing and trademarking the official D-RAVEL logo and watermark, writing weekly articles on both travel and fashion, networking, and collaborating with fashion bloggers, influencers, and designers all across the world and more. Every week brings a new and exciting challenge!
Accomplishments
As my experience is only halfway through, I'd say that my greatest experience thus far while interning for D-RAVEL has been being able to create the official logo/watermark for the brand. I've done a lot of playing around with Photoshop and Illustrator since high school and capitalized more so on it at Iowa State, so this accomplishment was exciting and showed me a new avenue in which I could profit from my creativity. I also have been so honored to be able to write weekly content for D-RAVEL and see my articles be published on the website. As a journalism minor, this opportunity to write for an editorial publication about fashion is such a rewarding experience. That excitement never goes away when you get to see your own writing flash across the screen!
Learning experience
One of my greatest lessons has been learning how to write blog posts in the SEO style, which creates more traffic on Google and attracts a larger audience than if using common speech. Aside from technical lessons, I've learned so much from my employer, Grace Rigdon (CEO of D-RAVEL), who inspires me daily with her can-do spirit and continuous drive to make her dreams for this business come alive. I've learned that going above and beyond your assigned tasks will always take you farther in life and that being able to collaborate smoothly will create things more wonderful than you could have ever imagined. I've learned that taking a chance on an internship in the middle of a pandemic might surprise you... and turn out to be the best decision you could have made.
What advice would you give?
To take a chance and trust your gut. I came home from school mid-March not knowing that this pandemic would cease our school year from returning to normal, and life was feeling pretty bleak from the state of the world. When finals had just ended, I was notified by CyHire about this internship opportunity and I felt an innate urge to at least try. I was home for the summer, not expecting to try for an internship until next summer, but figured, what did I have to lose? It was worth a shot and felt like an amazing way to turn around the rut that a jobless summer had left me in (due to COVID). When the news came that I was being offered the position, I was over the moon. This internship has been a blessing during a time of uncertainty and has helped me to prepare for my future, reminding me that tough times don't last, but tough people do.
Career Connections