Anastasia Voelker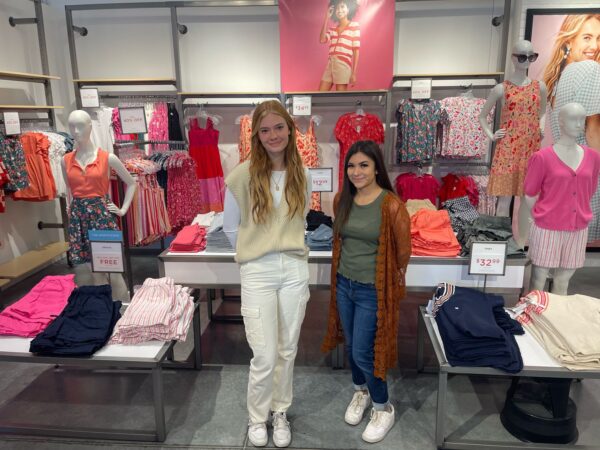 Responsibilities
As a visual merchandising intern for LOFT Outlet, some of the responsibilities I have include: developing window and in-store displays, styling mannequins, merchandising the floor set in accordance with the monthly store set documents, and tracking weekly sales performance across all merchandise categories. In addition to these responsibilities, I complete other daily tasks such as processing shipment, updating promotional signage, managing markdowns, and delivering exceptional customer service.
Accomplishments
At the beginning of every month, the store is given a store set document outlining detailed visual merchandising information. This information includes the merchandise and color story for each shop, specifics on how merchandise should be presented and what fixtures should be used, window display mockups, and mannequin styling examples. In preparation for the month of August, during my final month as an intern, I was given the responsibility of adapting the main entry set to our specific space and successfully arranging the fixtures and merchandise within this section of the store. Following the finalization of the set, I pulled key pieces from the section to style the mannequins. I was also designated leadership over a portion of the front window displays. This task included selecting and arranging signage and mannequins and well as styling the mannequins in the new merchandise. I am proud of this project because it was a culmination of all the learning I have done during my internship experience and an opportunity to exercise the skills that I have been developing.
Learning experience
One of the greatest lessons I have learned during my internship experience is that it is okay to ask for help. In many situations I am hesitant to ask for help because I don't want to seem incompetent or incapable. The reality is that asking for help and clarification is a necessary part of any learning experience and opens you up to new information and skill development. Avoiding asking for help can inhibit productivity and will only be a disservice to yourself in the long run.
What advice would you give?
My advice to future AMD students is to focus on finding your passion. The apparel industry is broad, and the opportunities can feel overwhelming. Your coursework is an opportunity to find an area of the industry that suits your individual skill set and interests. Investing in your work and building your portfolio will set you up for success as you begin the search for internships and jobs in your desired field.
Career Connections