Chuong Nguyen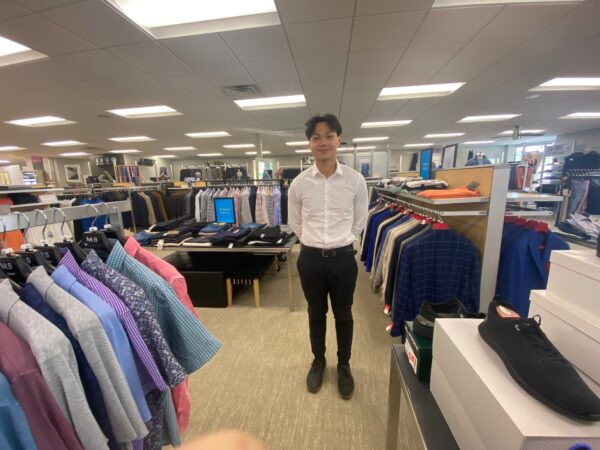 Responsibilities
My responsibilities during my internship are analyzing data on different vendors and running reports on each vendor. I am also responsible for ensuring our inventory is up to date and filling orders when they do not have specific merchandise in stock. I also have to ensure that every new customer's email is in our system so they can receive Mr. B's email blast once every two weeks. I am also responsible for ensuring our merchandise looks nice and appeals to the customer with a sizer on every hanger with perfect display strategies. When there is nothing else for me to do up on the front end, I go to the back, where our tailors do all of the alterations to help them with either ironing clothes or cutting out the sleeve on shirts so they can be ready to be shorten.
Accomplishments
My greatest accomplishment during my internship is getting to know all of the people working at Mr. B, from the front to the back, where they do all the alterations. All the sales associates have at least ten years of experience under their sleeve, and I could say the same for all the tailors in the back. Not only are they professional and skilled in the field, but they are also super welcoming when I first came into the store. There is not one day when I do not learn new things from them; every day is a new experience for me. All I can say is that I am super grateful to know these people from Mr. B.
Learning experience
I would say that the greatest lesson I learned from my experience is to be always open to new opportunities when given at hand. I would never get a chance to meet all those amazing people if I was not brave enough to give them a phone call and asked about internship opportunities.
What advice would you give?
All I can say is not to be scared to go out and explore what is being offered out there, because life is too short to be scared. Take all the opportunities you encounter as much as possible, because you never know what you will be missing. Last but not least, always be proud of who you are and where you came from because people love people for their differences.
Career Connections