Emily Klein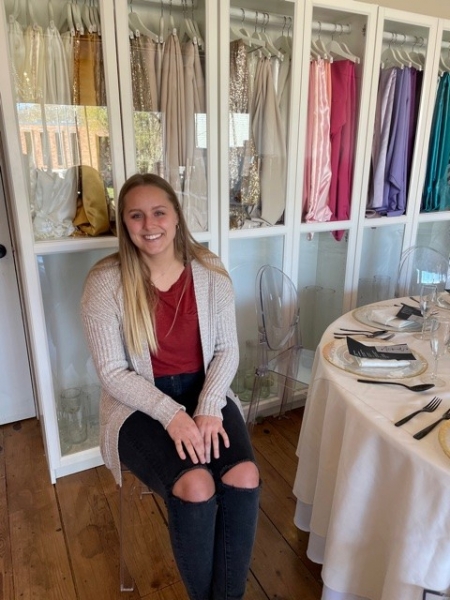 Responsibilities
Some of the responsibilities White Willow expects from their interns are time management, having good communication skills, asking clarifying questions, a positive attitude, and having a good work ethic. They expect you to show up and show up on time and to communicate with them by letting them know your availability in advance. Having a positive attitude and a good work ethic go hand in hand. Positivity just makes the workplace environment a comfortable place and where people enjoy being. When everyone has a good work ethic it allows people to come together as a team and accomplish great things.
Accomplishments
I feel my greatest accomplishment from this experience was my special project. The special project is for all interns, we are prompted with the task of creating something that will benefit White Willow. Some do style shoots, while others have created different ways to promote and market White Willow. I chose to create some merchandise and apparel that I noticed would be helpful for the company. The apparel and merchandise I chose were: a beanie for the colder weather, face masks to promote White Willow and show that they care about health and safety, a reusable tote bag for the bride to use on the day of, a backpack for the employees to use when setting up and tearing down, and a tumbler for a hot or cold beverages. I also included pricing and the websites from where I designed each product.
Learning experience
While working at White Willow I've had so many opportunities to learn hands-on, which was exactly what I was looking for in an internship. Some of my favorite times were when I was assisting the lead coordinator. The first time I coordinated it went smoothly because I learned it is okay to adjust the timeline a little for the bride and groom to have the best day possible. This particular wedding party was a rowdy bunch and ended up showing up to the reception an hour late because they decided to stop at a bar on their way over. Everything still went according to plan but it was a good lesson to learn early on; sometimes things don't always go to plan but it is their day and as long as you the coordinator are there to help guide them and stay on track with the timeline all will be fine.
What advice would you give?
Some advice I have for future students is to be open to all opportunities given. You will be able to learn so much and carry that into your future career. I would recommend trying to always sharpen your communication skills. I know in these times with a pandemic going on it can be difficult but it's always a great skill to work on because it is such an important part of this industry and there is always room for improvement!
Career Connections