Emily Nyren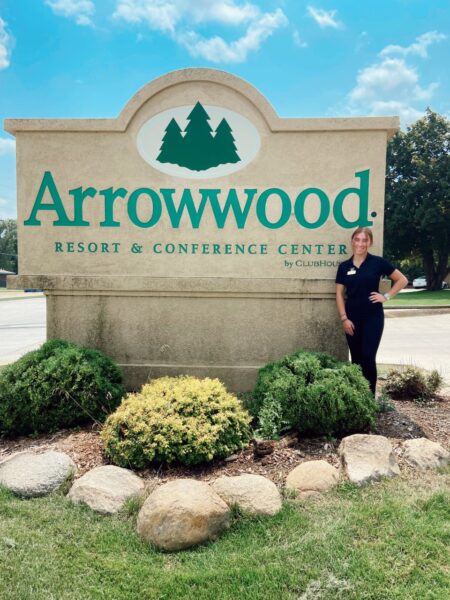 Responsibilities
Being titled an event intern/banquet manager at Arrowwood comes with a lot of responsibilities. My main responsibility being room set-ups for events. In order to successfully set up rooms, my supervisor gives the other intern, Nicole, and I, a BEO that states everything that needs to be in the rooms. Another responsibility I have is client relations. I am in charge of introducing myself to the client, running through the schedule for the day with them, answering any questions they have, and getting them any last-minute things they think they might need. This part is very important as it can create long-lasting impressions of Arrowwood and me. I also have the responsibility of managing a team for some of our bigger events. When I manage a team, I must tell them about their responsibilities for the night, whether that is being a food runner, a server, or a busser for the event. I have many other responsibilities while being an event intern/banquet manager, but these are my biggest ones.
Accomplishments
I feel that I have had many accomplishments during my internship, but my biggest one yet is successfully managing a wedding with 300+ attendees. For this wedding, my supervisor allowed me to take complete control over the whole operation. I was put in charge of room set-up, client relations, managing a staff of banquet servers, serving food, and clearing the room. This is my greatest accomplishment because when it comes to serving plated dinners, there are many steps to make it run successfully. I had to give each banquet server a role, whether that was being a food runner, a server, or a busser. I also had to communicate times that different parts of the dinner would be served and make sure we stayed on time. With the help of my team, I was able to run the wedding successfully. The bride and groom both came up to me at the end of the night and thanked me for all my hard work, and told me how impressed they were with everything. I have never had an experience like this before, and it definitely made me feel confident that I am in the right industry.
Learning experience
The greatest lesson I have learned from this experience is how important it is to always acknowledge people's hard work. Arrowwood has been struggling with being understaffed after the pandemic, so everyone who works has to do three times more work than usual. Having that much on your plate can be very stressful. People deserve to know that others are seeing their hard work, and they are appreciated. This is why I always thank everyone who helps with events and make sure they know they are appreciated. I do this because, after this internship, I have learned what it feels like to have things go unnoticed by others.
What advice would you give?
The best piece of advice I could give to students in event management is to keep pushing through. Managing events is not a 9 to 5 desk job; it is being on your feet, constantly meeting new people, working those long days, and much more. But, seeing the joy you can bring to people's lives through events makes everything so worth it. People will see all the hard work you have put into their individual event to make it unique and exciting for them. Another thing is that it may take time to find the part of the industry you want to spend the rest of your life in, whether that is weddings, conference planning, or incentive planning. Take the time to try out each section and find one that best matches your interests.
Career Connections