Hanah Litz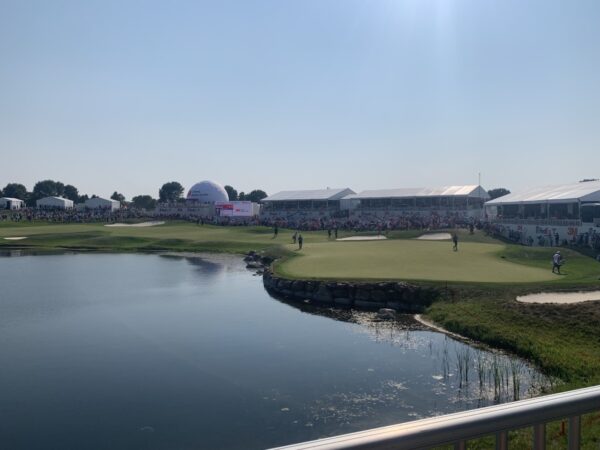 Responsibilities
For my internship, I am the 2021 Special Events Intern for the 3M Open. The 3M Open is a pivotal stop on the PGA TOUR and is host to a multitude of events over the course of one week. As the Special Events Intern, I work closely with the 3M Open's amazing staff to put on those events. My event responsibilities include event creation, venue layout and set-up, vendor liaison, attendee tracker, and run of show coordinator. This holds a lot of responsibility in making the tournament week events run smoothly.
Accomplishments
My greatest accomplishment during my internship was Executive Women's Day. Executive Women's Day (EWD) is an event that hosts 305 attendee in the 3M Corporate tent on the golf course. The EWD itinerary includes a Hands-On Charitable Experience, benefiting a local homeless shelter, and a panel of women and men leaders in their companies. This panel focuses on the conversation of women in the workplace, how COVID-19 affected local companies, and the importance of diversity and inclusion. For this I was a main point of contact. I created the main layout of the event, tracked attendees, made centerpieces, coordinated the menu with the caterer, facilitated panelist meetings, and set up the event space. A lot of my time at my internship was focused on this event and it was so exciting to see it come together. Myself and my team put a lot of work into it and seeing it all pay off was inspiring.
Learning experience
The greatest lessons I learned from my experience were always apply yourself to new things, network when you can, and always be willing to adjust. When I got this internship, I was very focused on only doing event related content everyday. I soon realized that I had a lot of ideas relating to other areas and started sharing those ideas. This ended up being a really good decision because I was able to show little talents I had while also helping other interns with things they needed. I branched into marketing and social media content and even operations! Additionally I learned that networking is super important and that you should always do it when you can. You never know who will know someone who could be a great asset for you to know. By always opening up and just saying a "hello" could make a huge difference in your future life and career. Lastly, I learned you should always be willing to adjust. Things will always change and need rearranging. A lot will not always go the way you think it will. At my internship, I found myself having to adjust a lot and at first it was really hard. Once you accept that things change everyday, your life, and internship, will be a lot more enjoyable.
What advice would you give?
The greatest piece of advice I have for future students in Event Management is take risks and follow your heart. With this internship, I really thought I had no chance in getting it. I had no sporting event management experience and applied with no hope of qualifying. Taking that risk was one of the best decisions of my entire life. If I had not took the risk and believed in myself then I would not have had one of the best summers of my life with the 3M Open. I learned so much and was able to grow immensely in my profession over this summer, all because I really reached out and applied myself to something I had not done before. Lastly, have fun. Your future in this major and whatever industry you choose will be your life. Have a great time, find the best fit for you, and enjoy every moment.
Career Connections