Jacob Bombei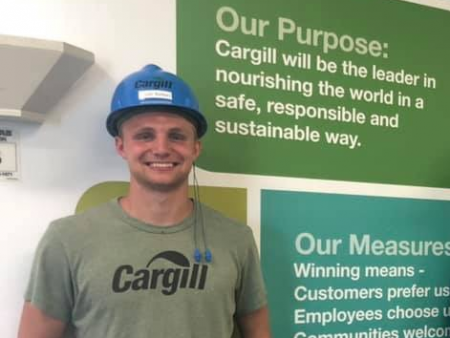 Responsibilities
This summer I was the FSQR Intern at Cargill Value Added Meats in Nebraska City, NE. I got the opportunity to work on many different projects. My main project was a Light Intensity Study where I looked at lighting around the plant to make sure it met the Food Code Requirements. I also conducted the annual allergen validation for the fiscal year. During this project I learned how to properly swab equipment. I also got the chance to learn how to sponge equipment on another project where I validated the 3X Clean Procedure. This project I focused on seeing if bacteria counts dropped after cleaning and looked to see if Listeria was present. I also got the chance to shadow FSQR Supervisors and Technicians. My overall experience is one I will never forget, and I hope I can work at this facility again someday!
Accomplishments
This summer I had many accomplishments, but my greatest accomplishment would be getting to know the FSQR Department and management around the plant. Networking should be at everyone's top priority and I believe that I accomplished that this summer. Another accomplishment would be the knowledge that I gained from this internship. I know a lot more about different kinds of cooked meats and it let me know that I want to stay in the meat industry.
What advice would you give?
My advice for future students is don't be afraid to ask questions. Another thing is be able to work as a team. Throughout this internship everyone worked as a team because that was the culture, and it made everything go a lot smoother. Along with teamwork attitude is also a big thing and plays a huge role. If you don't have the right attitude chances are you will not perform your task well. If anyone is interest in cooked meats I would highly recommend working at this Cargill plant!
Career Connections