Janae Stoecker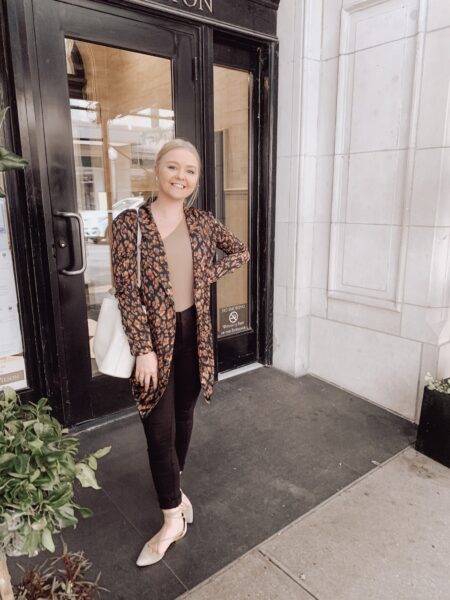 Responsibilities
My responsibilities during my internship included keeping the sales floor clean and organized, changing mannequins and window displays, and completing office duties such as answering phone calls and emails, opening packages that arrived, and preparing for the next day's appointments at the end of each day. I got the opportunity to consult some bridal appointments which consisted of getting to know the bride and her friends/family, showing her around the store, and helping her try bridal gowns on. I also got to assist on a photoshoot for Modern Luxury Weddings where we had photoshoots at four different sites over the course of one day. It was a lot of fun to meet all off the different vendors that go into wedding planning and see it all come together for the magazine.
Accomplishments
My greatest accomplishment during my internship experience was improving my hand sewing. My grandma taught me how to hand sew when I was younger, but it's not a skill that I had used any time recently. Over the course of the summer I had the opportunity to hand-sew and hand-bead many different custom luxury garments. Since my emphasis is in merchandising, this a unique skill that I will get to carry with my for the rest of my career.
Learning experience
The greatest lesson that I learned from my internship was to always be a team player and have a great attitude. Although you might sometimes be asked to do tasks that you would rather not do, even seemingly small tasks can be an immense help to the company that you are working for. Having a great, positive attitude and a strong work ethic will be very impressive to your employer and will often result in them trusting you with larger, more important tasks in the future.
What advice would you give?
My advice to students would be to keep an open mind when looking for internships and jobs. I would have never expected to have an internship in the bridal industry, but I wouldn't trade it for anything. I got to experience a lot of unique opportunities this summer and I acquired skills that are unique and that I probably wouldn't have with most of the other internships I was looking at. Everything happens for a reason so you just have to trust that no matter what internship or job you get, there is always something that you'll learn from your experience.
Career Connections