Joshua Casady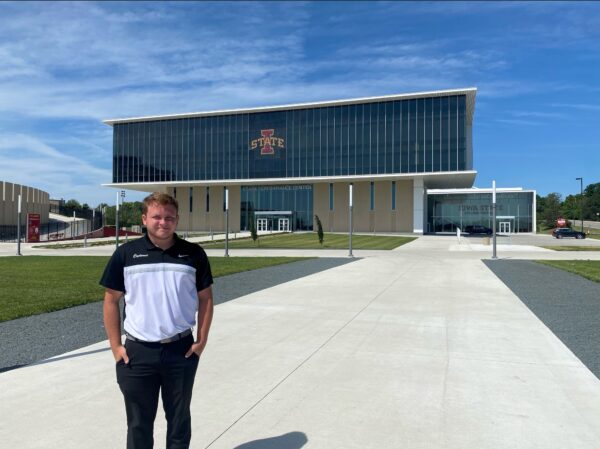 Responsibilities
My primary responsibility as a Student Intern Equipment Manager is to assist the Directors of Equipment Operations in the football equipment department. This entails preparing and distributing any and all athletic equipment and apparel for football coaches, staff, and players before, during, and after any practices or workouts. Additionally, the equipment staff assists with football gear for high school prospects during their photoshoots that take place during their official visits to campus. The Iowa State football program also hosts numerous youth and high school camps throughout the summer, which requires our help for a smooth and efficient operation while the coaches focus on the drills for attendees.
Accomplishments
My greatest accomplishment during my internship experience was getting to grow as an individual and as a future leader in the hospitality industry. Before this experience, I was much more reserved, dependent, and diffident. By the end of the experience, I had broken out of my shell and became a much-improved leader because of my newfound self-confidence. A leader's traits always project onto the rest of the team, so leaders must be confident individuals so that their teams may feel confident and strong, too. Thus, in becoming a more confident and independent person and manager, I believe that my greatest accomplishment was actually becoming a better leader for any future teams that I may lead.
Learning experience
The greatest lesson I learned from my experience in athletic equipment operations is to always trust your gut. Second guessing oneself out of a lack of confidence often leads to more setbacks than simply trusting your instincts the first time. That being said, I have also learned that to F.A.I.L. actually means that one has made their "First Attempt In Learning." Getting up after failing is the most essential part of any process because failure is never disappointing if it can be used as a learning experience for the next attempt. Trusting my gut, even if it may be wrong, and gaining the mindset to turn a perceived negative experience into a positive one are two of the most valuable lessons that I have learned in my professional life.
What advice would you give?
The most important advice that I have for future students in my major is do not be afraid of change. Change is good as change is what drive progress in our world. On a more individualized level, change can be scary, but it can also lead to new and potentially better opportunities that would never be possible without taking a leap of faith. I personally enrolled at Iowa State as a mechanical engineering major, but even after finding success in that major, I decided to take a leap of faith onto an entirely different path. Since then, I have never been happier, and I could not be more excited to begin my career in hospitality management after graduation. No matter what stage you are at in your life, education, or career, do not let fear stop you from going into the unknown, especially if it could help you find your passion.
Career Connections