Keely Bennett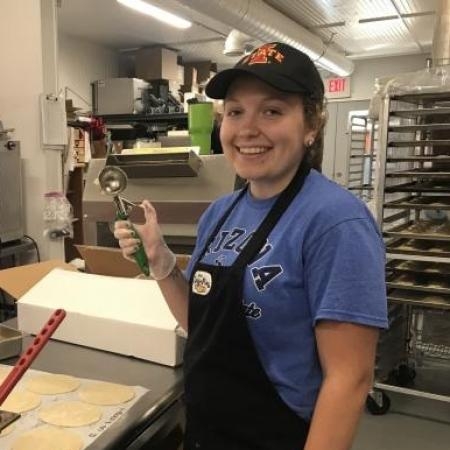 Responsibilities
This summer I worked at Sara's Tipsy Pies in Stillwater Minnesota as a production intern. My responsibilities entailed making pie filling, producing pies, packaging, helping price out items, sampling new items, greeting people/helping out customers, and of course food quality and sanitation control. I was also taught about how their business works and how they make connection/run a successful business.
Accomplishments
My greatest accomplishment I made this summer was finally being confident in the kitchen. I was never a huge baker, but after this summer my skills of producing commercial products and using commercial scale kitchen equipment increased. It was good having a team trust your capabilities then succeeding.
Learning experience
The greatest lesson I learned is it is so important having communication with every part of a business. The company I worked for made a huge deal with Cub Foods, therefore the amount of product needing to be produced about tripled. This means needing to buy more ingredients, more time, more workers, and higher efficiency. Communication with each distributor about pricing and delivery dates are so important to meet deadlines and margins. Also, in the workplace when working in a team, discussions and meetings are needed to reduce confusion and improve efficiency. Teamwork and communication is key.
What advice would you give?
Some advice I would give is find an internship you are passionate about! Working here did not feel like work because I loved the company and the job so much.
Career Connections