Leah Fifi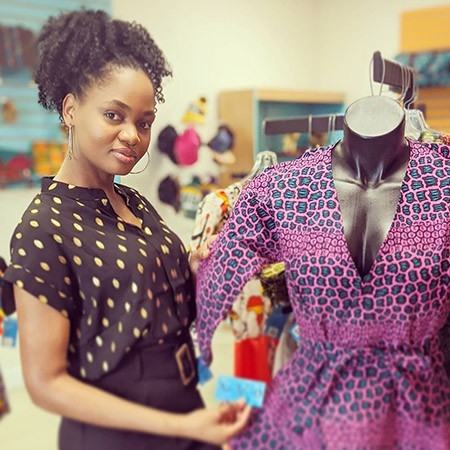 Responsibilities
Interns at Budu/Bu assist in the design and development of new styles. Their daily tasks involve pattern making, sewing, completing alterations and customizing up-cycled second-hand apparel to create new styles. In addition, interns get first-hand experience running a small boutique and develop skills such as customer service, cash register operation, inventory systems, marketing visuals, brand promotion, and store layout.
Accomplishments
One of my greatest accomplishments was to create a collection of garments - Hot Afro Line. This project allowed me to use my skills and talents to translate my ideas into beautiful garments with an African touch.
Learning experience
One of the lessons I learn is that designing is interdependent with time and space and requires flexibility to address customer needs. To respond to COVID-19 pandemic, I was able to design different kinds of masks to help customers in their effort to stay safe. I also learned that problem- solving skills are a must-have in the fashion industry. These skills are key to success given that the fashion designing process involves trials and errors. One has to be ready to respond to challenges with creative solutions.
What advice would you give?
1. Set a SMART goal (specific, measurable, attainable, relevant, and time bound) and communicate it clearly with the internship supervisor. This will make the internship worthwhile. 2. Be organized. I suggest having a to-do list to keep track of projects and progress. 3. Be flexible. The ability to adjust schedules and project priorities will make it easy to respond to the customers needs in a timely manner.
Career Connections