Madeline Egbert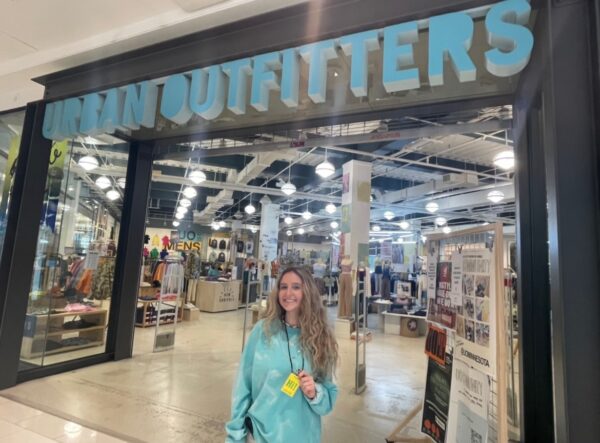 Responsibilities
My responsibilities throughout my time working at Urban Outfitters includes assisting the head of Visual Merchandising, Lauren Thorson, in updating the store displays bi-weekly in order to stay on top of current trends. Other responsibilities are analyzing trends, understanding the Urban Outfitters consumer, working to enhance the customer experience and growing in-store profit through customer service.
Accomplishments
My greatest accomplishment with Urban Outfitters would be completely re-working the bra wall and WACC (Women's Accessories) section with Carlie for back-to-school which is the most profitable sector of the entire store. I learned how important the placement of specific products is in order to produce the most profit. This Urban Outfitters location I had the pleasure of working at was rated #1 in highest profit out of all other Urban Outfitters locations and #3 in the best WACC visuals/sales. Roughly 100 bras are purchased every day at the Bloomington location.
Learning experience
There are many lessons I learned this summer through my internship. The first and most important lesson I learned is that all experience is good experience. You can learn so many different skills and lessons at every job you take on and everyone's journey is going to look completely different, so it's important not to compare yourself to others. Another lesson I learned is that reaching out to companies you are interested in on your own can get you farther than waiting and searching on job sites for opportunities. I found this internship by personally reaching out on my own. I also learned to trust my creative instincts and take chances.
What advice would you give?
The best advice I can offer is to find something that makes you happy and give it 100% because hard work really pays off in the end. Although this may sound cliché, don't be afraid to take risks because so many people miss out on great opportunities because of the fear of trying. Lastly, life is too short, so make the most of every opportunity!
Career Connections