Matthew Lorenzen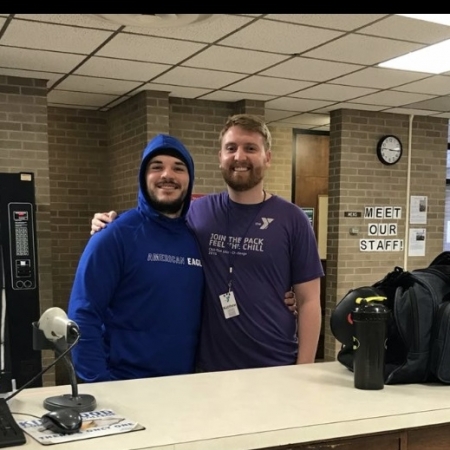 Responsibilities
1. Ability to communicate with a Y-voice, demonstrating determination, genuine concern, a welcoming attitude, hopefulness and a nurturing spirit 2. Ability to work with minimal supervision, taking initiative to assist in developing others 3. Ability to maintain confidentiality on member information 4. Ability to demonstrate professional conduct and image at all times 5. Ability to articulate how the YMCA transforms lives and what this position's impact is 6. Ability to serve as a healthy lifestyles role model for members and staff 7. Attend trainings and/or courses to maintain certification and/or as required by the YMCA 8. Provides excellent service to members, guests, and program participants in the Y and on the phone, contributing to member retention. 9. Conduct interviews and/or tours responsive to the needs of prospective members; sells memberships. 10. Builds relationships with members; helps members connect with one another and the YMCA. 11. Handles and resolves membership concerns and informs supervisor of unusual situations or unresolved issues. 12. Applies all YMCA policies dealing with member services. 13. Maintains facility appearance and ensure safety measures are in place. 14. May hand out locker keys and towels; monitors the locker rooms and facility as required. 15. Perform additional duties as assigned by supervisor or designated staff person. 16. Demonstrate and support the objectives of the Association as embodied in the mission statement and values. 17. Take part in the Youth Sports Coordinator role: a. Finding Coaches to coach teams. b. Finding referees to referee games. c. Opening and closing gyms. d. Supervising/scheduling all referees and learning the process of payroll for each. 18. Learning the budgeting that the director has to use for all payroll/gym equipment. 19. Scheduling all employees for the Welcome Center and Wellness Coaches. 20. Attending meetings bi-weekly that the directors attend to for both Welcome Center and Wellness Coaches. 21. Create a youth program or event for our youth members. 22. Create an adult program or event for our 18+ members.
Accomplishments
The greatest accomplishment from my experience was meeting all the wonderful people at the Boone County YMCA and helping them achieve their goals. It's the most satisfying thing in the world.
What advice would you give?
Simply be outgoing. The community will welcome you with open arms and you'll have the opportunity to meet a lot of inspirational people if you allow yourself to step outside your shell.
Career Connections