McKenna Iles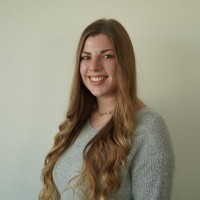 Responsibilities
At my internship with Greater Iowa, my main focus is to plan, manage, and execute elements of event plans and projects. My biggest event that I have planned and executed so far was the company's 90th birthday party, this included ordering and delivering cookies and decorations to each of our nine branches, organizing company photos for a presentation, and contacting all staff members to inform them of what was going on. On the radar for the rest of my internship with Greater Iowa, I am helping plan our all staff day, setting up a booth at Ankeny Summer Fest, volunteering at the National Balloon Classic as well as coordinating volunteers for this event, and starting to plan for our annual Member Tailgate event that takes place at one of the Iowa State football games in the fall.
Accomplishments
I think my biggest accomplishment during my internship so far would be the success of Greater Iowa's 90th birthday. This was the first event that I worked with outside vendors, looked at numbers to determine the number of cookies and the cost that would come with those, planned the decorations, and did the set up at each of the branches. I had the freedom to pick most of the things that came along with this event and I got a ton of compliments on it, overall I am pretty proud of how my first event went.
Learning experience
I would say that the greatest lesson that I have learned so far from my experience is to start planning events as soon as you possibly can, events that I thought would take a day to plan ended up taking a couple of weeks at least. Even if events do only end up taking a day to plan, it gives you more time to recruit volunteers and come up with a better thought out plan of how you want the day to go.
What advice would you give?
My best advice for future students that are majoring in Event Management would be to go above and beyond. Finding an internship that gives you experience in exactly what you want to do is so important. If you find an internship that fits your interests, you will be more motivated to go above and beyond in the work that you do there and I believe that this will better prepare you for a lot of things that will come at you in your career.
Career Connections