Nicholas Young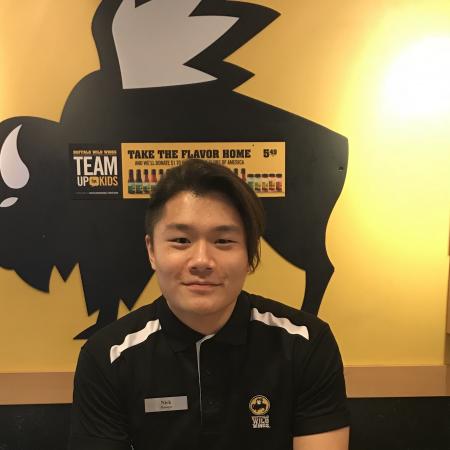 Responsibilities
BOH Zoned Manager Team • Corrects and coaches performance during a shift • Conducts pre and post shift meetings • Assists other managers with interviewing, training, development and retention of team members • Read all implementation materials for new products • Participate in webinars and formal training sessions for new product and processes • Assists with new product and tools implementation Quality Operations • Supervises the operation of the restaurant on a shifty by shift basis • Ensures proper food, alcohol and general safety standards are being followed • Conducts company standard line audit checks for food safety measures • Help document and track product waste • Ensures Food Safety compliance • Overseeing food presentation, quality assurance and timeliness of food delivery. Kitchen Line Cook/Prep Cook • Prepares menu items according to Buffalo Wild Wings' Recipes, plate presentations and specifications • Completes all assigned prep work • Sets up work station according to station diagram • Practices sanitary and safe food handling at all times • Cleans and sanitizes the work area before, during, and after shift • Completes assigned daily and weekly cleaning projects • Organizing and stocking inventory while being conscious of product expiration dates and supply demand
Accomplishments
With the Ames Buffalo Wild Wings having a large employee clientele, I am very satisfied with the endless networking and growth opportunities that I've gained with Buffalo Wild Wings. I've maintained a great relationship with the District Manager, Old General Manager, New General Manager, Old BOH Department Manager, and the New BOH Department Manager. I feel very secure that if I wanted to continue my growth at Buffalo Wild Wings, I'd be able to. If not, I've been told to never be hesitated for a reference from any of them.
Learning experience
Aside from the culinary and food safety experience that I've gained from Buffalo Wild Wings, I am proud to understand how much that I can persevere through a difficult time. Working in the food industry as an essential worker during Covid-19 has humbled me in so many ways. It has taught me to not take things for granted and that with hard work, I can amount to anything.
What advice would you give?
My advice for future students thinking about joining Buffalo Wild Wings is that: you get what you put in. The training at the beginning was quite overwhelming with the information being thrown at you. There were moments I'd study at home for the tasks that I had to know or how to perform. However as more time went by, the more confident I felt within myself to carry out my duties.
Career Connections