Taylor Glade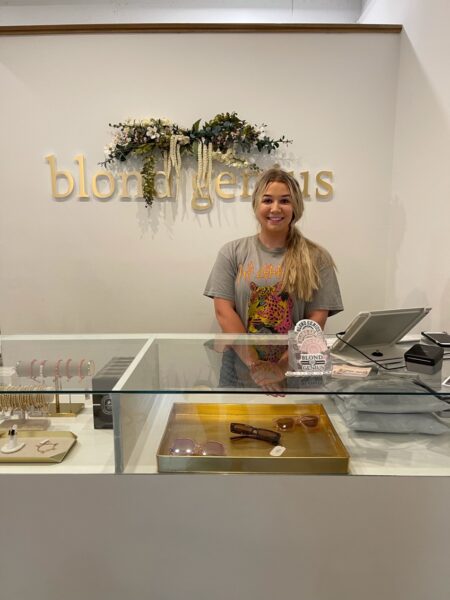 Responsibilities
At Blond Genius, my title is labeled as a Merchandising Manager Intern. I am responsible for having great knowledge of the merchandise (brands, etc.), excellent customer service for our clients, and packing and fulfilling online orders using Shopify. I also create content for social media and engage with clients on Instagram. My final responsibility is the visual merchandising of the store for the optimal shopping experience.
Accomplishments
During my internship at Blond Genius, my greatest accomplishment was helping pick out the outfits for models during the fashion show at the annual event, Brunch with the Queen. I worked closely with the models during the event and helped organize what order the models should walk in during the show, the order of the outfits, and made sure that all of the outfits were styled well as well as made sure that every outfit fit the models and that they felt comfortable in their clothing.
Learning experience
A great lesson that I learned was to be on my A-game always and to work with a smile on my face. You never know who you might run into or meet! By having a great attitude at work, this helps me be the best employee as it boosts my mood and others as well. If you work in retail, or anything customer service, always acknowledge every person that walks through the door as if they were your friend. This has helped me to not only gain connections, but to also gain friendships as well. Being organized and making notes of things to report back to your boss really help to keep things flowing and to avoid any errors that might come along the way! The last great takeaway I have learned from my experience is to work with others like you are all a part of the same team, because you are! Communicating with coworkers is so necessary and helps clear up any confusion to avoid hiccups as well.
What advice would you give?
My advice for future AMD majors is to always push yourself outside of your comfort zone! I know that is a very cliche saying, but you will amaze yourself by what you can accomplish by doing this! Getting experience and making connections are absolutely key parts of being in college as this will help you grow as a person and in your future career/endeavors. Another piece of advice I will say is to always ask questions, especially to those who have seen great success in their life! You can always learn something new every single day and this will only better you.
Career Connections