Tessa Snook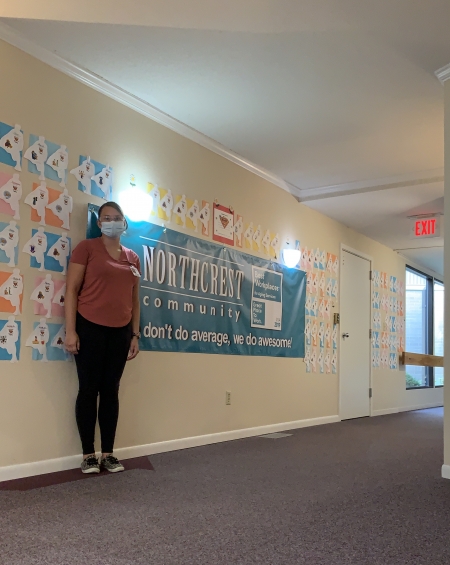 Responsibilities
During my internship, I was responsible for setting up, leading/supervising, and cleaning up activities for residents. I took residents to and from activities and assisted them throughout as needed. I was responsible for remembering the residents who had special diets and ensuring they would have a safe option for activities that involved food and beverages. Outside of activities, I was responsible for typing and submitting daily progress notes to my supervisor. This was to document each resident's involvement in activities. I would indicate whether the resident declined or attended the activity, their participation throughout, and a brief summary of how I felt the resident did during the activity. I also gained the responsibility of typing, printing, and distributing our daily and weekly Northcrest News. The weekly news includes all activities throughout the week, lunch/dinner menu, and updates about Northcrest's regulations during this time. Toward the end of my internship, I began assisting with family visits once we were able to allow that.
Accomplishments
My greatest accomplishment would be gaining more confidence in working with the residents and their families. Each resident I work with is either healing from an injury or has dementia or alzeihmer's. It can be scary not knowing how to properly assist or communicate with residents in this state. A job within this organization definitely requires a lot of patience and compassion. Figuring out how to answer some of the difficult questions or how to respond to a resident who is frustrated because they are confused has been one of my biggest accomplishments. Specified training on this topic as well as advice from staff members was a huge help in accomplishing more confidence.
Learning experience
I gained a lot more professional experience during this internship. I became familiar with Microsoft apps outside of word, I made phone calls and communicated with family members, and I learned how to communicate with an entirely different generation that has physical injuries or a disease. However, on a more personal note, I would say the greatest lesson I learned is that life is too short. I know everyone hears that everyday, but working with various individuals who lived successful lives and were involved in so much, but are now unable to care for themselves, is extremely eye opening. It allows you to step back and enjoy this moment right now and be appreciative of where you are. You never know where or what state you will be in once the future you've been wishing for comes. All that matters is what's happening right now and that you live the life you have left as fully as you can.
What advice would you give?
My advice for future students searching for an internship, or any type of experience, is to start with the people you know. Who do you know that works in a field you're interested in? Do you have a friend who has a family member in that field? Having a personal connection or knowing someone through a friend will increase your chances of obtaining the experience you want. Talk about your interests and ask as many questions as much as you can. You will eventually find the answers and right people to get you where you are hoping to be.
Career Connections