Travis Loecke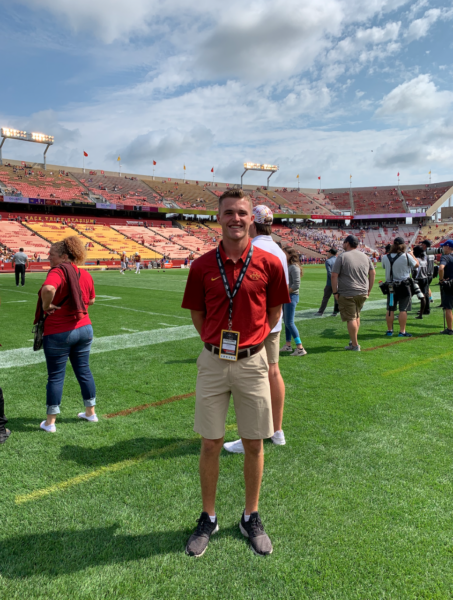 Responsibilities
As a Gameday Operations Intern, you play a vital role in all Iowa State home sporting events as you assist the full-time event staff in their duties. My responsibilities while on the job included helping with event set up and tear down, such as setting up tables, barricades, and stage deck. As an intern, I must attend assigned office hours each week, which involve completing various tasks throughout the event facilities. I was assigned fall softball and soccer for my sports. I had to perform various duties such as coordinating event staff, updating visiting team guides, contacting officials, and most importantly, ensuring everything was set up properly for the sporting event to run smoothly.
Accomplishments
My greatest accomplishment from my internship experience would be completing the fall softball season without any difficulties. I received many compliments on the efforts put into the fall ball games, even though they were just preseason games. That accomplishment has allowed me to better prepare myself for the spring softball season, as I know what needs to be done and changes need to be implemented.
Learning experience
The lessons I have learned from my internship experience are not being afraid to put yourself out there even if it is outside of your comfort zone. By doing so, it may open more doors for yourself that you never knew existed. I have also learned not to fear making a mistake, as it is part of the learning process. Mistakes are natural in the workplace, and it is where you learn most about yourself as an individual. Lastly, it is never too early to start networking. The people you meet during your internship may play a vital role in helping you land your next job.
What advice would you give?
Through my experiences, I have gained valuable advice for future students in my major. First, do not pass up on an opportunity even if it may not sound the most appealing because you never know where that opportunity could take you. Second, be open to learning new things and try to get involved as much as possible. Lastly, the sports industry is very competitive, so be sure to build your connections early, which will make you a better candidate for a future job than someone who might be applying for the same job as you.
Career Connections