College of Human Sciences Honors students complete capstone research
Student News
Honors and Awards News
The College of Human Sciences congratulates seniors who will successfully complete the Iowa State University Honors program this spring.
Deemed a high-impact student experience by higher education experts, the Honors program challenges high-ability students to expand their potential by pursuing intriguing educational and intellectual opportunities. Faculty and staff members work with students in the Honors program to enrich their coursework, expand their professional development, and collaborate on real-world research.
"Enrollment in the college's Honors program offers students personalized plans, one-to-one interaction with faculty, additional scholarship opportunities, and access to exclusive events," said Laura Kilbride, a student services specialist in Human Sciences Student Services who coordinates the Honors program in the College of Human Sciences.
"This spring, the CHS Honors program experienced a record surge in enrollment, demonstrating the enthusiasm of our students for taking their learning to the next level," Kilbride said.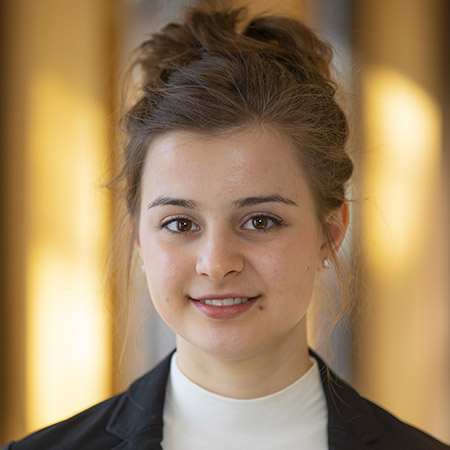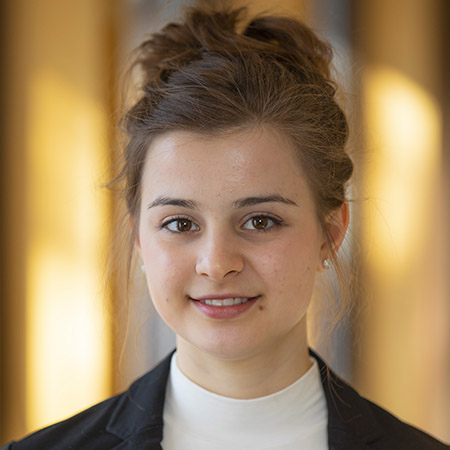 Holly Appleton, a senior in food science, concentrated her capstone research on promoting food quality and safety through the application of high voltage atmospheric cold plasma in food processing, a novel technology that is advantageous for spore and mycotoxin control in foods. Appleton felt that the support she had been given as a student in undergraduate research gave her immense help, as she had contemplated pursuing an advanced degree. Appleton will continue her education as a master's student in biomanufacturing at North Carolina State University, furthering her pursuit of a career in biopharmaceuticals. Appleton said she will always value the fantastic social and academic opportunities afforded her at Iowa State. She advises students to take advantage of the program's potential for opening their eyes to the professional world.
Stephanie Bias is a senior in event management. Her honors project focuses on what motivates people to attend vegan festivals so event managers can develop effective entertainment and marketing strategies. Her research made a significant contribution to what little literature on vegan festivals is currently available. In the future, Bias aims to plan and manage retreats as the lead event manager at her family's business, Camp Aramoni. Bias learned how to analyze data through the Honors program. She recommends others start their capstone projects early.
Claire Birchmier, a senior in nutritional science with a minor in pharmacology and toxicology, investigated animal models with polycystic ovary syndrome (PCOS). This preliminary research informs future research determining whether eggs are an effective nutritional therapeutic treatment for PCOS, which is one of the leading causes of infertility among women and contributes to a host of other metabolic abnormalities. Through the capstone project, Birchmier has gained independence in laboratory skills and the satisfaction of contributing to a project with potentially tangible implications for women's health. She advises future Honors students to make the most out of the college experience and embrace the challenges and opportunities that the Honors program uniquely provides.
Emily Carley, a senior in kinesiology and health with a focus on pre-physical therapy, centered her Honors capstone project on research involving two countries — the United States and Ireland — and their approach to sports models and concussion protocols. She dug deeply to examine each country's protocols and past research, and compare their respective approaches. Carley learned how to start with very little information on a topic and expand it into something greater — and found it rewarding. She aspires to work with a hospital for veterans, or with veterans in general. Both of her grandfathers are veterans and the VA hospital in her hometown has always been a significant place for her. Carley encourages potential Honors students to not be afraid to join, and emphasizes the insight they can gain from doing so.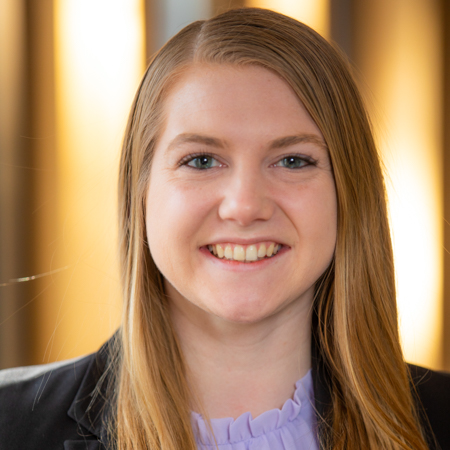 Andi Luth is a kinesiology student with a pre-health emphasis. The passage of the USDA 'Final Rule' in 2017 mandated that schools update their local school wellness policies. The policy requires that schools implement and evaluate programs to support physical activity. Luth's project assessed whether school environments and policies are associated with students' school-based physical activity. Her project is a sub-analysis of data from the School Wellness Integration Targeting Child Health (SWITCH) research project that she's helped with throughout her college career. After personally going through a knee injury and reconstructive surgery, Luth aspires to work in physical therapy. Being able to relate to her patients, with both their physical and emotional struggles, is important to Luth. She advises others to take advantage of every opportunity, experience, and connection that is available.
Tammie Melton is a senior in apparel, merchandising, and design with an emphasis in merchandising. Her Honors capstone project focuses on content analysis of the portrayal of women of color in HBO's show Euphoria to help people understand the stereotypes of minorities and how those may be reinforced through mainstream media and influencing viewers. Melton has found the research eye-opening. She intends to work in apparel merchandising and facilitate and improve diversity and inclusion within mainstream media. Melton encourages potential Honors students to push past their self-doubt and embrace intellectual challenges.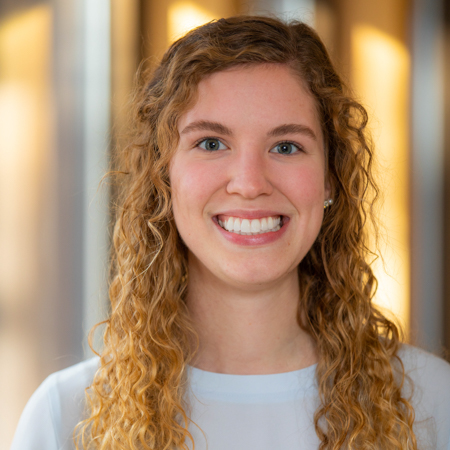 Macy Morrow is a kinesiology and health student within the pre-health option. Morrow's research looks at how cardiovascular disease affects men and women differently. Women have a lower risk for cardiovascular disease until after menopause. This is partly due to a blood vessel constrictor called Angiotensin II, which changes after menopause. Due to Morrow's research, Angiotensin II after menopause and its effects on cardiovascular disease are now better understood. Morrow found it rewarding to engage in a research study from start to finish, and knows the process will be beneficial to draw upon in graduate school. Morrow plans to become a nurse practitioner, as being a nurse gives her a sense of purpose and value, and it will allow her to improve healthcare one patient at a time. She encourages students to take advantage of the opportunities to meet people outside of your major.
Maddie Timmerman, a senior in elementary education, with endorsements in reading and mathematics, focused her project on the integration of science, technology, engineering, and mathematics (STEM) in the classroom. Her inspiration sprouted from her work with STEM-Lit to Go, an Iowa State University program that supports the development of STEM and literacy skills among children in Kindergarten through third grade. Timmerman has found the connections she's made throughout the process to be rewarding and beneficial. She aspires to become an elementary school teacher and then work toward a master's degree and work in school administration. She plans to support her future students, enforcing positive changes for not only them, but for all faculty within a school district. Timmerman encourages potential Honors students to become involved, build connections, and set themselves apart from others.
Katherine Tupper, a senior in kinesiology and health, investigated the differences in muscle firing in the quadriceps and hamstrings between people who have had anterior cruciate ligament , or ACL, reconstruction and those with healthy controls. Tupper was inspired by her own experiences with ACL reconstruction, and was intrigued to discover the effects the procedure had on patients throughout their lives. By learning how the muscle firing changes after surgery, Tupper aimed to discover the changes that can be made to physical therapy prescriptions to prevent subjects from experiencing future ACL tears. Throughout the research process, Tupper witnessed  studies performed on all different parts of the body, and tested various assistive devices in a biomechanics lab. Tupper plans to work as a physician assistant in orthopedic surgery. She advises future Honors students to get involved in research early on to develop meaningful mentorships with professors and upper-level students.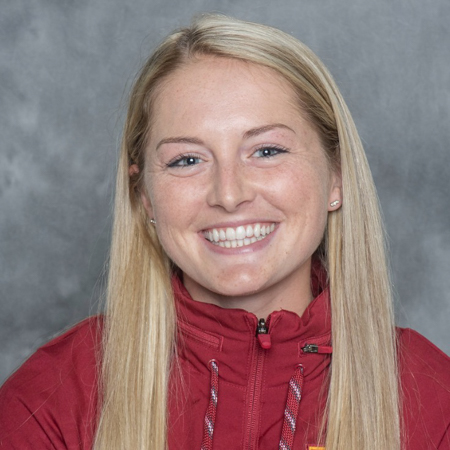 Gwynne Wright, a senior in kinesiology and health with a focus on pre-health, studied the impact of intergenerational groups on the quality of life in both older individuals with Parkinson's disease and students who volunteered in the groups. If individuals' quality of life is improved in both groups, programs like these could be expanded on campus and in hospitals to improve the overall quality of life for various populations. Wright has found the connections she's made through her major, and within the Iowa State community, rewarding. She aspires to become a nurse practitioner and provide healthcare to rural and underrepresented areas. Wright encourages potential Honors students to become involved, emphasizing that the connections you make are as important as your overall grade point average.
Anna Reelfs, a kinesiology and health major with a pre-health emphasis, focused her project on the use of a weighted pen to improve the handwriting of people who live with Parkinson's disease. Since difficulty writing is a common symptom of the disease, and writing is a daily task, an effective intervention would improve the quality of life for the one million Americans with the disease. Limited research has been done on the effectiveness of weighted pens, so Reelfs's project will help guiding future recommendations. Reelfs worked closely with other students and with research participants who live with Parkinson's disease. It was rewarding for her to see the project completed from start to finish. Due to the relationships she built with her own doctors growing up, and the opportunities she's had to work with children with special needs, she aspires to be a pediatrician. Reelfs encourages students to get involved with honors, as it is a great way to connect with those in and outside of your major.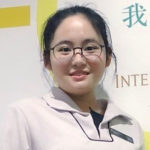 Wanfeng (Nicky) Xu has a double major in hospitality management and event management. Xu's research focuses on the world problem of food waste, which has led to money loss and a severely negative impact on the environment. Xu specifically examines how restaurants' customers perceive a restaurant's intention of engaging in plate waste reduction by using attribute-based and benefit-based advertising. Gender serves as a moderating variable examining the relationship between skepticism, perceived motivation, behavioral intention, and advertisement message types. Xu learned how to begin, revise, and polish a research paper, and is now prepared to conduct research in graduate school. Xu aims to transfer what she's learned from this project to her future academic study of public policy and administration. Xu is interested in studying the major problems the world is facing in regard to food waste, and examining other scholars' solutions to those problems. Xu suggests that Honors students begin their research as early as possible, and then summarize all of the main ideas from their paper onto the poster.
News