College of Human Sciences to honor graduating seniors at 2021 Cyclone Graduation Celebration on Saturday
Iowa State University and the College of Human Sciences will celebrate the accomplishments of graduating seniors at 1:30 p.m. on Saturday, May 8. As part of the first series of in-person graduation events hosted by Iowa State since the arrival of the COVID-19 pandemic, the undergraduate "Cyclone Graduation Celebration" will take the place of the traditional college convocations.
Graduating students will wear caps and gowns. All graduates and guests are required to wear face coverings and practice physical distancing. Laura Dunn Jolly, dean and Dean's Chair of the College of Human Sciences, and other academic leaders will individually recognize College of Human Sciences students receiving bachelor's degrees.
The event will also be livestreamed. For a link to the livestream, additional information on the event, and short video clips featuring the awardees which go live at 9 a.m. on Friday, May 7, visit the College of Human Sciences graduation webpage.
Six graduating seniors will receive special honors at the event: Tessa Mendoza in kinesiology and health; Grace Carey in dietetics; Emily Leerhoff in family and consumer sciences education and studies; Sophia Luu in apparel, merchandising, and design; Delana Vogel in elementary education; and Lydia Anderson in elementary education.
University Marshal
Tessa Mendoza of Grimes, Iowa, will lead the procession as university marshal. Mendoza is graduating summa cum laude with a Bachelor of Science in kinesiology and health, a certificate in computing applications, and a minor in psychology. Mendoza earned an Iowa State University Presidential Leadership Scholarship and served in the Presidential Leadership Class. Throughout her academic career at Iowa State, she has worked as a research assistant in the neurophysiology lab. In this role, Mendoza assisted with data collection and analysis for several research grants, presented at three symposiums, and most recently co-authored a manuscript that is in review. Beyond required fieldwork, she has gained experience as a data science intern, worked in hospital patient care, and served as an intern at the Center of Sports Analytics. Mendoza plans to pursue a career in data science and sports analytics.
College Marshal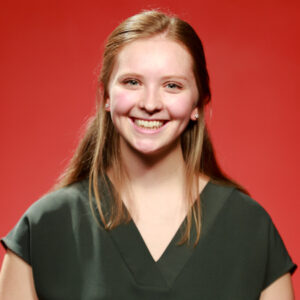 Grace Carey of Cedar Rapids, Iowa, is the college marshal. Carey is graduating summa cum laude with a bachelor's degree in dietetics and a minor in child, adult, and family services. As an undergraduate teaching assistant, she has collaborated with professors and assisted them with class responsibilities. As a learning community peer mentor, Carey also helped lead a course for first-year students. She has promoted Dance Marathon, prepared to-go meals for schoolchildren, helped with The SHOP food pantry, and served as a College of Human Sciences Ambassador. Through the Student Dietetic Association, Carey led seminars and taught interactive lessons on healthy eating to local groups. She has also been deeply involved with the Program for Women in Science and Engineering as a student role model. Having already positively impacted the greater community, Carey plans to attend the University of Iowa to earn a master's degree in clinical nutrition.
Dean's Recognition Award
Emily Leerhoff of Clarksville, Iowa, is graduating summa cum laude with a bachelor's degree in family and consumer sciences education and studies. She has earned teacher licensure with added endorsements in health and coaching. Leerhoff is an outstanding student and an engaged community member. She has made her mark as the Harrison Barnes Reading Site Supervisor for Raising Readers of Story County, a Rising Star Intern with ISU Extension and Outreach, and a tutor with America Reads/America Counts. She remains active in two professional associations, one of which honored her as a top undergraduate student. She exemplified leadership as a College of Human Sciences Ambassador, president of Collegiate 4-H, and president of the Family and Consumer Sciences Education and Studies Club. Leerhoff looks forward to teaching family and consumer science to middle schools student in Glenwood, Iowa.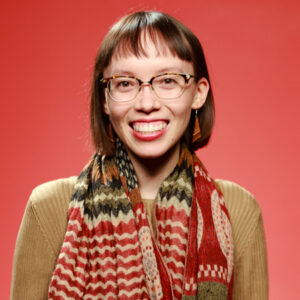 Sophia Luu of Humboldt, Iowa, is graduating summa cum laude with a bachelor's degree in apparel, merchandising, and design with an emphasis in creative and technical design. Sophia is an exceptional student, designer, and researcher, far exceeding expectations in her classes — including some graduate level courses. Her designs have received awards at The Fashion Show. Luu's intellect and innate curiosity shine in her research. As a Louise Rosenfeld Undergraduate Research Intern, she studied Japanese textile artifacts for the "Contemplate Japan" Brunnier Art Museum exhibit; her continued research on the project earned her the Undergraduate Student Best Paper Award from the International Textile and Apparel Association. While her academic, design, and research work has been highly decorated, what sets Luu apart is her focus on helping others. Her designs give the community a tangible representation of her commitment to expanding human potential and improving people's lives through clothing. Her meaningful, research-based designs will continue to impact as Luu furthers her career.
Delana Vogel of Ames, Iowa, is graduating summa cum laude with a bachelor's degree in elementary education, and teaching endorsements in K-12 English as a second language, English/language arts, reading, and social studies. Vogel has impressed students, faculty, and staff with her dedication to amassing and sharing knowledge. She has furthered her effective interpersonal and educational skills through extensive practicum and teaching experiences. Her teaching aspirations are paired with aspirations to create equitable, anti-racist, and socially-just learning environments. Vogel's involvement outside of the classroom reaches far — ranging from the National Education Association and the College of Human Sciences Dean's Advisory Council to the Activists for Educational Justice organization and Raising Readers in Story County literacy program. Vogel has accepted a position teaching fifth grade in a school in central Iowa, where she will make a measurable difference in the lives of children and their families.
Student Council Graduating Student of the Semester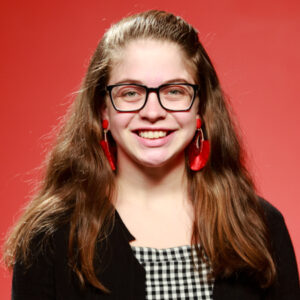 Lydia Anderson of Marion, Iowa, is graduating summa cum laude with a bachelor's degree in elementary education and teaching endorsements in special education and reading. Anderson is a supportive change maker who has earned a number of academic distinctions, including membership in the Cardinal Key Honor Society. She substitute taught at Linn-Mar Schools, assisted at the Lily Pad Learning Center in Ames, and cared for children as a church nursery attendant. She also tutored ISU students in mathematics and represented students on the College of Human Sciences Curriculum Committee. An advocate for people with mental disabilities, she participated in an inclusive dance/cheer group and also developed 1:1 friendships through the Best Buddies and Big Sisters programs. She led others as an at-large member of the College of Human Sciences Student Council and president of Anthony House in the Friley Residence Hall, and headed several Delta Gamma Sorority activities. She will teach special education at Carlisle Elementary in Carlisle, Iowa.
News