Fashion show at Iowa State features athletic wear, garments inspired by Greece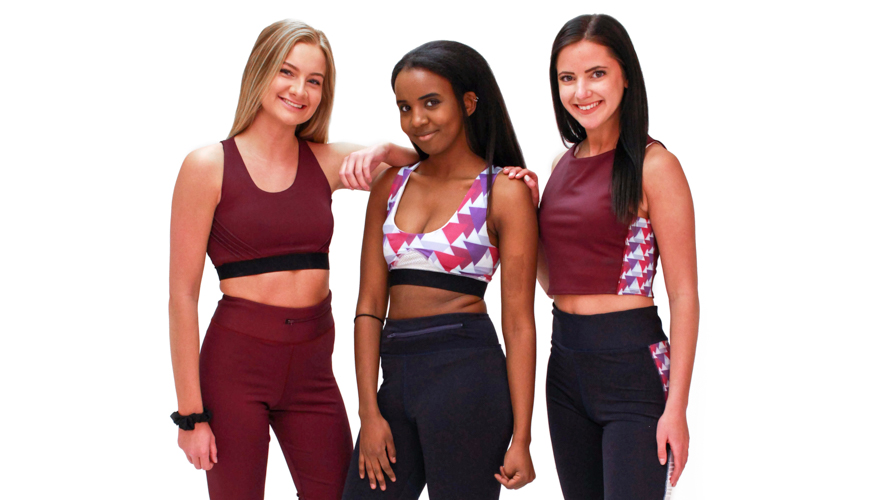 Athletic wear designed to empower women and a collection of garments inspired by Greece are among the unique components of The Fashion Show 2018 at Iowa State University.
The Fashion Show 2018, one of the largest student-run fashion shows in the nation, will take place at 7 p.m. April 14 at C.Y. Stephens Auditorium. The event is in its 36th year and features more than 125 student-designed garments on the runway and in mounted exhibitions.
Women-inspired athletic wear
Sarah Waigand, a senior in apparel, merchandising, and design, is a designer in the 2018 show. After observing a lack of practical athletic wear for women, Waigand designed her senior collection with functionality in mind.
"A lot of the athletic clothing out there isn't something I would personally wear," she said. "I wanted to focus on utility, so there are pockets for your phone and a built in sports bra so you don't feel like you have to wear multiple garments."
Waigand's activewear collection includes leggings, sports bras and shirts designed for runners. Each garment is accented with bold, colorful, digitally printed geometric triangles.
"The geometric triangles are simplistic but strong," she said. "It represents the mountains you have to climb to reach your goals."
Waigand's journey in the apparel, merchandising, and design program began with the Ana and Ed McCracken Apparel, Merchandising, and Design Scholarship. Ana Hays McCracken (B.S., fashion merchandising, 1984) and husband Ed McCracken (B.S., electrical engineering, 1966) in 2014 made a $200,000 gift to the College of Human Sciences to provide four years of tuition support for Waigand and three successive students who entered the AMD program from 2015 through 2017.
Waigand was the first student to receive the scholarship, which is granted to one incoming freshman each year and is renewable for four years.
"This scholarship has given me the opportunity to excel in the program and be involved in The Fashion Show," Waigand said.
Over the past four years, Waigand has formed a close relationship with the McCrackens.
"They're amazing, down-to-earth people," she said. "Whenever I complete a major milestone or finish a garment, I'll send them a picture and the inspiration for it."
International Inspiration
While Waigand's collection was inspired by her personal relationship with activewear, Katrina Pedrick's idea for her collection began during her semester abroad.
On a 10-day trip to Santorini, Greece in 2017, Pedrick came across a small handbag shop that would later become the inspiration for her senior collection.
"At first I just thought the handbags were really cool," she said. "I went to take a picture, and I realized that I could use this for something creative later on."
Pedrick spent over 130 hours weaving Merino wool and Alpaca yarn for each garment in her senior collection — a technique she had never done prior to this project.
"I spent a lot of time researching and practicing," she said. "The jacket in my line alone took about 80 hours."
Pedrick's collection — which includes a dress, jackets, pants, and sweater — combines a subdued color palette with handmade woven material. Pedrick named her line "On the Fringe" — a nod to the fringe accents incorporated into the weaves of each piece.
Pedrick said she remembers sewing since age 5.
"Sewing has always been a part of my life," she said. "I started sewing, then creating garments, then designing. I would even journal out what I was going to wear each week."
Though Pedrick's semester abroad took place during last year's show, she was a committee member during the 2016 production.
"After being on a committee, there's so much work that goes on behind the scenes that you don't necessarily know about," she said. "Now I can appreciate the entire show and the amount of work that goes into it."
Rebirth and Regrowth
The theme of The Fashion Show 2018 is "Resilience." Student directors, committees, and producers of The Fashion Show choose the theme of the show each year based on student mood-board submissions.
"It ties in with our guest designer coincidentally," Waigand said.
This year's guest designer is Patagonia, an outdoor clothing company based in Ventura, California.
"They've been through the mudslides and the wildfires, which has affected their employees and it's affected the area where they're located," she said. "We felt 'resilience' tied in with that."
New categories of competition
In addition to unique student designs and a minimalistic theme, guests can also expect to see restructured categories of competition for this year's show to more accurately reflect current market trends and consumer demand.
"This year, we had a panel of faculty members decide on what they believe, based on what they've seen being made in their classes, which categories should be in the show," said Waigand, who is also a producer for this year's show.
Student designers will now have the opportunity to win awards for unique pieces, in addition to traditional category awards.
"Students can win awards in categories including digital printing, senior collection, wearable technology, graduate, and inspired by the Textiles and Clothing Museum," Waigand said.
The Year of the Shoe
Each year, The Fashion Show chooses a philanthropy to collaborate with. For the second year in a row, The Fashion Show will partner with Dress for Success.
"Dress for Success is a non-profit organization that provides programs to help local women acquire jobs, retain their positions, and succeed in the mainstream workplace," said Lillie DeVries, a co-director of alumni and community relations for the show.
The Fashion Show will gather donations for Dress for Success until April 18.
This year's Dress for Success effort has been named "The Year of the Shoe," and focuses on black purses, black shoes, and gas gift cards for women to use when traveling to and from job interviews.
"We believed that by continuing to build our relationship with Dress for Success, we could expand on last year's success and ensure that we build on our success in the future," said Jennifer Junker, the director of alumni and community relations.
"Because the foundation was already there, we thought that we could make the most impact rather than starting over with a different philanthropy," Junker said.
Donations to Dress for Success are collected at 0031 MacKay Hall, 1071A LeBaron Hall, and E104 Lagomarcino until April 18.
Key contacts
Sarah Bennett, lecturer, Department of Apparel, Events, and Hospitality Management; Iowa State University, 515-294-7527, sbennett@iastate.edu
Ellen McKinney, assistant professor, Department of Apparel, Events, and Hospitality Management; Iowa State University, 515-294-7536, emckinne@iastate.edu
Sarah Waigand, senior in apparel, merchandising, and design; Iowa State University, swaigand@iastate.edu
Jennifer Junker, senior in apparel, merchandising, and design; Iowa State University, jmjunker@iastate.edu
Lillie DeVries, junior in apparel, merchandising, and design; Iowa State University, ldevries@iastate.edu
Emily Stearney, communications assistant, College of Human Sciences, Iowa State University, 515-294-9424,  hsupdate@iastate.edu
News