Michelle Tapia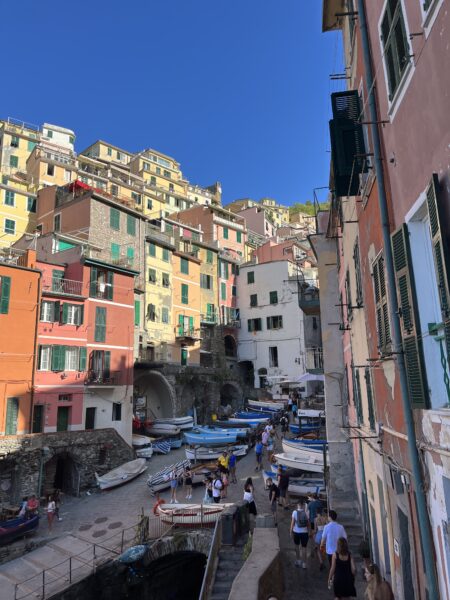 Major: Elementary Education
Class: Junior
Timeframe: Fall
Program: Lorenzo de' Medici Institute
Destination: Italy
Overall Experience
Studying abroad was one of the best decisions I have made. Although I was hesitant about living in a different country for four months, I would not change anything about my experience. It may seem scary at first, but soon you will realize that it is all part of the process. I had the opportunity to visit six countries during my time where I was able to learn so much about different cultures and meet new people from all over the world. I was able to gain a global perspective which simply can not be done in a classroom which I think is important as a future teacher. I believe it helped me in both my personal life and educational path. Overall, studying abroad was the most amazing experience and will be something I will remember and cherish for the rest of my life!
Learning experience
One of the most valuable learning experiences I had were from my courses in Florence. Lorenzo de' Medici offered great courses; I took a psychology course about love and natural selection, a couple of history classes where I learned so much about Italian culture, and an Italian cooking and nutrition course where I learned to cook many traditional dishes! These courses were very interesting, but they also taught me many skills such as time management. The courses were two and a half hours long and started early in the morning and ended late at night sometimes. They had a strict policy about absences and tardiness so it was crucial to be responsible and organize your schedule. This was something I had struggled with a bit before, so I am excited to use these new skills for the upcoming semester. Time management is one of the most important skills to have so I would say it was a valuable learning experience. After class, we were free to do whatever we wanted!
Memorable experience
The most memorable experiences I have come from traveling Europe on the weekends. At my school, we did not have class on Friday so it was very easy to plan trips during this time. One of my favorite trips was Oktoberfest in Munich, Germany. During my weekend in Germany, I was able to explore the beautiful city of Munich as well as attend Oktoberfest, the world's largest Volksfest. I tried many traditional dishes and drinks such as Bavarian pretzels, sausage, beer cheese, and German lager beers. It was a day full of singing, dancing, and meeting new people. I made wonderful new friends from all over who I still speak to today!
What did you not expect?
Something that I did not expect was for living abroad to have such a big impact on me. I have always planned on finding a teaching job in Iowa right after graduation, but after visiting numerous countries and exploring so many beautiful places, it helped me see how much more there is out there. Student teaching abroad is now something I am very interested in! Although this isn't 100% certain, I am happy to have had such a great time that I would do it again. Studying abroad truly does have such a good impact.
What advice would you give?
My main piece of advice for students who are thinking about studying abroad is just to say "yes!" Whether the decision is still up in the air or you are already there, studying abroad and saying yes to the different opportunities that come with it are so important for not only your academic and professional path but your personal development. I came back with a new view of life. I gained more independence, and confidence and was able to make beautiful memories that will last a lifetime. Studying abroad can do that and so much more. I am so grateful that I was able to live the studying abroad experience to its full potential and was able to just say "yes!".
How has this experience impacted your life?
This experience greatly impacted my personal life, as well as my educational and career goals. I believe living abroad helped me become more independent and confident. I was constantly put into situations where I needed to problem solve and it helped prepare me for what is coming after graduation. After this experience, I feel more confident in handling things on my own and feel ready for what's ahead! I am confident that the skills I gained during my time will be crucial in the classroom in order to provide a comfortable environment for all my students, no matter their backgrounds. By moving abroad, I was able to gain intercultural skills which will help me bridge cultural differences in the classroom and establish meaningful relationships with my students. My main goal is to create an open classroom full of acceptance and comfort where we celebrate diversity and studying abroad has helped prepare me for that.
How did you learn about this experience?
I first learned about this opportunity through other peers who had done it and shared their amazing experiences with me. I decided to attend the study abroad fair where I was presented with so many different exciting opportunities. After some thought, I decided that Florence, Italy was the place for me!
International Connections