Iowa State future teachers and area schools offer innovative learning through technology internship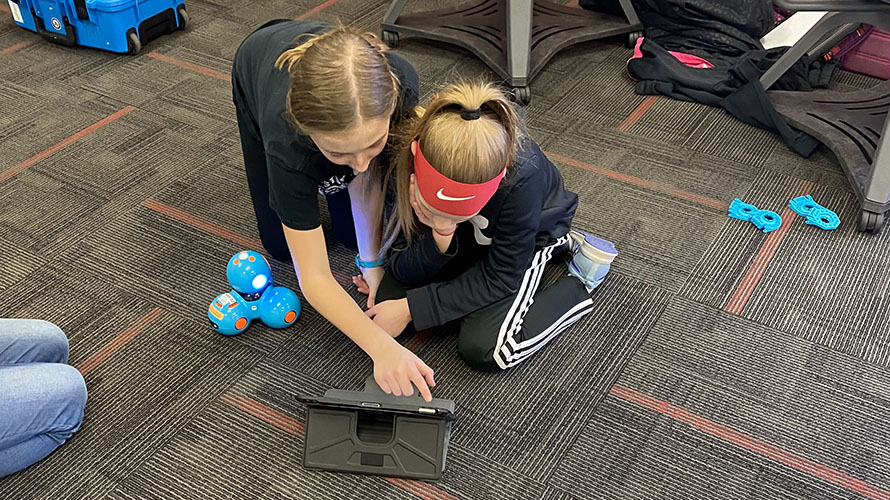 Caroline Aldrich, an Iowa State University senior in elementary education, is helping third graders learn and apply engineering strategies using Legos to design robots, at Zearing Elementary School in Colo-Nesco school district.
Aldrich said she enjoys seeing the students interact with the engineering design process every step of the way.
"Technology is our future, plain and simple," Aldrich said. "Technology integration is important, not just to teach our students how to use technology, but to prepare them for jobs that require higher-order thinking."
As an Iowa State technology intern, Aldrich helps Zearing classroom teachers integrate the latest learning technologies into their lessons. 
During these times of distance learning, Aldrich is developing activities that teachers can do online with their students.
The internship program was originally proposed by Denise Crawford, director of the Center for Technology in Learning and Teaching at Iowa State, and Roland-Story school district. The program has since expanded to partner with Colo-Nesco and Gilbert school districts.
Iowa State's preservice teachers who are enrolled in the learning technologies minor — or simply want to explore instructional technology more deeply — can apply to the internship program to get more practice implementing technology in the classroom.
"They really do work with teachers and students in the classroom — using technology, supporting that use, and team teaching in some cases," Crawford said. "That's highly desirable in this internship."
Over time, each district has defined the program to meet its particular needs, Crawford said. Iowa State students can choose which district's internship parameters will best suit their personal interests.
Dani Schon, another senior in elementary education who is interning at Roland-Story Middle School, has always been tech savvy. Taking the Principles and Practices of Learning with Technology (EDUC 302) course with Denise Crawford sparked Schon's interest in pursuing the opportunity.
As part of her internship, Schon started a Girls in STEM Club at the middle school. The club empowers students between fifth and eighth grade to aim for future careers in the vital fields of science, technology, engineering, and mathematics. 
Before the COVID-19 pandemic, Dani brought in several types of robots and technologies that the girls were able to try out. She plans to do coding activities with the girls, and bring in a computer science graduate student to talk about her experience in school.
"In starting [the Girls in STEM Club], I have worked closely with the principal, teachers, secretaries, and students," Schon said. "I've also used it as an opportunity to observe different classrooms. I want to teach middle school math, so this has given me the chance to observe middle school math teachers in action."
Access to Iowa State's education technology resources helps the interns, the young students, and their schools. 
Aldrich checks out teaching kits from the Center for Technology in Learning and Teaching for the third-grade students to use.
The interns bring new research-based lessons to the schools. They also learn from the experienced classroom teachers they work with.
"Whenever our students have the opportunity to be situated in an actual Pre-K-12 situation where they can learn from mentors in those schools that are working with this piece of the puzzle in Pre-K-12 education, I think that's innovative," Crawford said. "Experiences like that are hard to recreate in coursework."
Aldrich and Schon also say they've built relationships and experiences that will stick with them long after they've graduated from Iowa State. 
"I will be able to take things that I have done at Roland-Story and put them in my portfolio," Schon said. 
Aldrich says the effects of the technology internship prepares the young students for a better future.
"Every one of our students has the potential to be a leader that changes our world if they're given the right environment and tools," Aldrich said. "I think educational technologies with a focus on innovation are a huge step in the right direction."
News