Iowa State University pioneers online event management master's program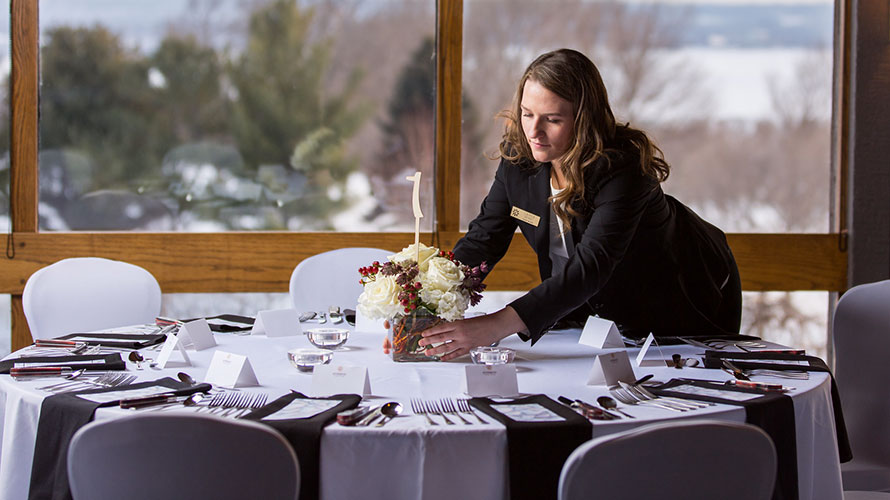 With the No. 1 bachelor's degree program in the country, as ranked by schools.com, Iowa State now leads the way for event management professionals who want to take their education further and advance their careers.
"Event management as a stand-alone discipline is relatively new — over the past ten years — and we were one of the first programs to have a four-year degree in event management in the United States," said Eulanda Sanders, chair of apparel, events, and hospitality management and the Donna R. Danielson Professor in Textiles and Clothing. "The next level is to provide graduate education."
The Iowa State University faculty is providing national leadership for the events industry by paving the way for this new kind of master's study and introducing the next generation of event management experts.
"We are helping set the stage for what graduate education in event management looks like, and providing new opportunities for professionals within event management to be successful in their industries," Sanders said.
Students in the master's program will gain an expanded understanding of the event management industry as well as advanced skills in critical thinking, research, and data analysis.
"The master's program really provides another level of critical thinking for the discipline and for new individuals entering the discipline," Sanders said.
Risk management is a skill set prioritized in the curriculum. Modern society poses new risks within public settings, so graduates will learn not only how to create engaging events, but events that ensure guest safety from the moment they arrive until their departure.
Other academic objectives include:
– Creating event plans based on research and analysis, trends, goals and objectives, larger organizational plans, and financial resources.
– Managing financial processing and pricing.
– Integrating multidisciplinary social science theories to contemporary event planning.
– Recognizing new priorities in the event management domain.
The 36-credit program will be delivered completely online. With four core classes, a statistics requirement, and the opportunity to take other courses of interest, most students will be able to earn their degree in approximately six semesters, according to Eric Olson, assistant professor and event management program director.
"Offering our program online will really benefit a variety of professionals," Olson said. "Professionals who are already working, who are already in event management, students who cannot get to campus — that's a reason why our program is unique."
Another unique characteristic of the program is the creative component project — students will tackle this project to "take everything that they've learned and apply to it to an industry-based project," Olson said.
Students will work on their creative components with guidance from a 3-member faculty committee. Each student will have creative control and the freedom to choose their project — from further developing an assignment they're already begun at their workplace or imagining up a whole new event — as long as they shape a creative component project deemed relevant and of-interest.
The program is targeted toward mid-level and executive-level professionals but applicants can be new to the field.
To read more about the online event management master's degree program at Iowa State, visit the program's webpage.
Key contacts
Eulanda Sanders, professor and chair, Apparel, Events, and Hospitality Management, sanderse@iastate.edu, 515-294-7474
Eric Olson, assistant professor and program director, Apparel, Events, and Hospitality Management, olsoned@iastate.edu, 515-294-0699
Cathy Curtis, communications director, College of Human Sciences, ccurtis@iastate.edu, 515-294-8175
Breanna Bruening, website assistant/writer, College of Human Sciences, hswebaid@iastate.edu
News