Iowa State University partners with Mary Greeley Medical Center to provide advanced nursing education
STEM News
Health and Wellness News
ISU News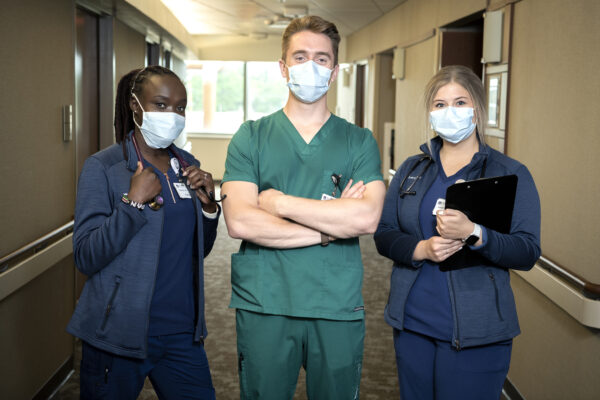 New partnership will offer paid tuition for the hospital's registered nurses
AMES, IA —Iowa State University has announced a new partnership with the Mary Greeley Medical Center that will advance the profession of nursing in both the community and the state of Iowa.
In a new cohort agreement, Mary Greeley Medical Center will annually provide tuition for eight of its registered nurses to complete their bachelor of science in nursing (BSN) at Iowa State.
"The Mary Greeley Medical Center is an institution of excellence, and we are thrilled to be in a partnership with them," said Dawn Bowker, director of nursing education at Iowa State. "We are very proud of our program here at Iowa State and it is a privilege to be able to work with a healthcare organization of their prowess. The Mary Greeley Medical Center's commitment to education in this partnership advances the profession of nursing, advancing the health outcomes of Iowans."
According to the "Future of Nursing: 2020-2030," a report by the National Academy of Medicine released last May, if the U.S. wants to create more positive patient outcomes, the health care workforce needs a higher presence of nurses with bachelor of science degrees in nursing. The report cites that overall, "baccalaureate-prepared nurses are better equipped to meet the increasingly complex demands of care both inside and outside the hospital," by being exposed to health policy, leadership, research and systems thinking.
"This partnership with Iowa State represents a significant investment in our nurses," said Cory Geffre, vice present and Chief Nursing Officer at Mary Greeley. "This demonstration of how much we value and support our nurses will also provide benefits for both our recruitment and retention efforts."
The RN-to-BSN program at Iowa State is unique as it is designed to meet the needs of the newly licensed, and mid-career, working nurse, as the curriculum is delivered through a hybrid mode of learning. Students attend class one day per week, either face-to-face or online. The remainder of the course is completed independently and online.
The program is specifically designed to be completed in one year, in two semesters (full-time) or four semesters (part-time), to help working nurses make an immediate difference in their places of practice. Students are encouraged to build upon their academic credits and licensures by exploring health and wellness with an interdisciplinary team, concentrating on a specific area of interest for electives and incorporating nutrition and wellness, advocacy and professional development into practicum experience.
Additionally, unique to Iowa State's RN-to-BSN program are the immersion opportunities for clinical practice that expand the worldview of nursing to provide more culturally congruent care to patients.
Contacts:
Dawn Bowker
Director of Nursing Education
Iowa State University
515-294-6080
dmbowker@iastate.edu
Cory Geffre
Vice president and Chief Nursing Officer
Mary Greeley Medical Center
geffre@MGMC.COM
This RN-to-BSN program is approved by the Iowa Board of Nursing, the Iowa Board of Regents, and the Higher Learning Commission.
Effective October 12, 2020, this nursing program is a candidate for initial accreditation by the Accreditation Commission for Education in Nursing. This candidacy status expires on October 12, 2022.
Accreditation Commission for Education in Nursing (ACEN)
3390 Peachtree Rd NE, Suite 1400, Suite 850 Atlanta, GA 30326
(404) 975-5000
http://www.acenursing.com/candidates/candidacy.asp
News