Getting the most protein out of legumes and oilseeds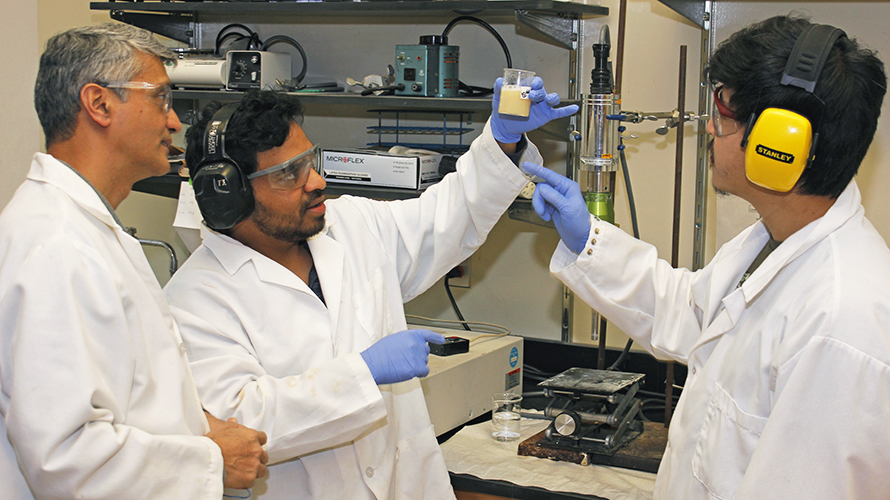 Whether it's a protein bar or a protein shake, the main source of protein in the product comes from soybeans and other legumes. Researchers at Iowa State are looking to improve the protein extraction process from legumes and make the most of them in food applications.
Food science and human nutrition graduate students Bibek Byanju and Mahfuz Rahman, under the direction of Associate Professor Buddhi Lamsal, have been using high-power sonication to extract protein from defatted soybean flakes and flour. Conventional methods allow 50 percent of the protein to be extracted, but the researchers hope to extract closer to 70 percent with their method.
If they are successful in their research, both industry and society will benefit from the results, and the findings will also help evaluate the sonic-assisted plant protein extraction and such processing technology at larger scales.
Read the full story on the Food Science and Human Nutrition website.
Key contacts
Bibek Byanju, graduate student, Food Science and Human Nutrition, bbyanju@iastate.edu
Mahfuz Rahman, graduate student, Food Science and Human Nutrition, mahfuz@iastate.edu
Buddhi Lamsal, associate professor, Food Science and Human Nutrition, 515-294-8681, lamsal@iastate.edu
Whitney Baxter, communications coordinator, Food Science and Human Nutrition, 515-294-9166, wjsager@iastate.edu
News