Getting the most protein out of legumes and oilseeds
Student News
Research News
ISU News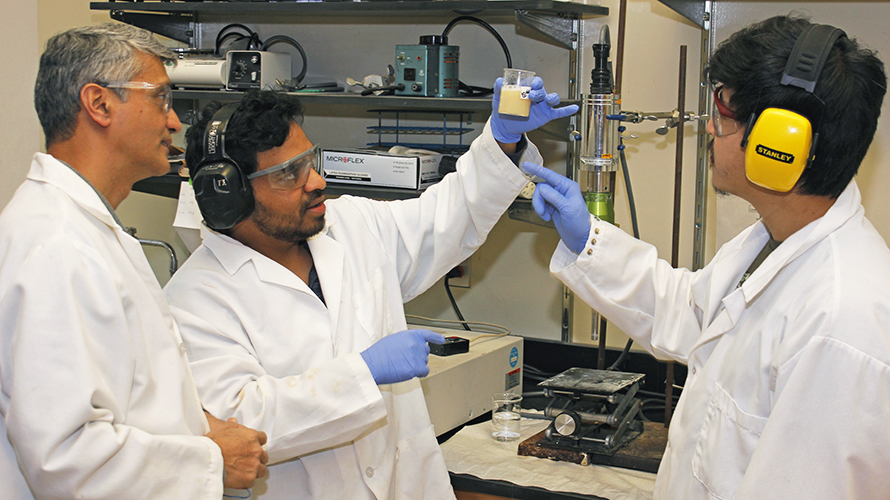 Pick up a protein bar or a protein shake, and chances are, the main source of protein in it comes from soybeans and other legumes. Researchers at Iowa State are finding ways to improve the protein extraction process from legumes and make the most of them in food applications.
Food science and human nutrition graduate students Bibek Byanju and Mahfuz Rahman, under the direction of Associate Professor Buddhi Lamsal, have been using high-power sonication to extract protein from defatted soybean flakes and flour. Conventional methods allow 50 percent of the protein to be extracted, but the researchers hope to extract closer to 70 percent with their method.
Funding for this research comes from a $427,000 USDA grant the group received two years ago
"There's been a lot of interest recently in plant-based proteins and their health benefits, and legumes are a major source of protein," Lamsal said of what prompted them to conduct this research project.
As with any process, the researchers take into account the quality and quantity of the protein they are extracting, making sure the protein's quality does not decrease as higher amounts are extracted. The research findings will also help evaluate the sonic-assisted plant protein extraction and such processing technology at larger scales.
If they are successful in their project, both industry and society will benefit from the results, Rahman said. The ability to extract larger amounts of protein from legumes will allow processors to increase their profits in the plant protein market. Consumers would benefit by having more choices of nutritious and healthy ingredients in their foods.
Through working on this project, both Byanju and Rahman have learned how to work with proteins in the laboratory and how to plan a research project. They also have gained experience in determining the nutritional and functional properties of proteins.
"It's really good to work with advanced technologies and improve existing processes," Bibek said.
Key Contacts:
Bibek Byanju, graduate student, Food Science and Human Nutrition, bbyanju@iastate.edu

Mahfuz Rahman, graduate student, Food Science and Human Nutrition, mahfuz@iastate.edu

Buddhi Lamsal, associate professor, Food Science and Human Nutrition, 515-294-8681, lamsal@iastate.edu

Whitney Baxter, communications coordinator, Food Science and Human Nutrition, 515-294-9166, wjsager@iastate.edu
News