5th Grade ISU 4U Promise Scholars Visit Campus
Most years, on the Thursday and Friday before Prep Week at Iowa State, people on campus might see small groups of 5th graders walking around campus. The field trips are an annual event for Moulton and King Elementary 5th graders to celebrate their year of "official" enrollment into the ISU 4U Promise program and to introduce many of them to the campus. An informal survey given to the Moulton and King 5th graders at the end of 2018 showed that two-thirds of the students had never visited a college campus before. It is hoped that with the growth and expansion of the College Partnership Program over the next few years, that statistic will change.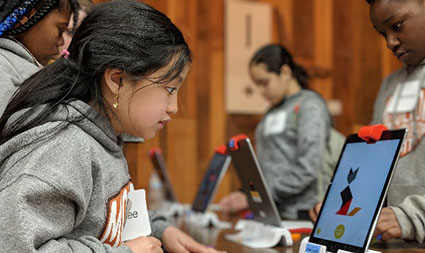 Over the course of two days in April 2019, approximately 90 Moulton students, 50 King students, and 22 teachers and other adult chaperones visited Iowa State University. Their days were divided into two hour-long sessions which included a scavenger hunt/tour of campus and a series of interactive hands-on activities. Additionally, the groups had the opportunity to eat in the food court of the Memorial Union.
More than 40 ISU undergraduate and graduate students volunteered to help with the field trips either by leading groups around campus, directing students during the busy lunchtime, being hosts in the activities room, or helping with set up and tear down. In addition, over 16 faculty, staff, and students helped facilitate the hands-on activities. Activities included:
---
8th-10th Grade ISU 4U Promise Scholars Visit Campus

On a Saturday in April 2019, nine ISU 4U Promise Scholars, along with family members and/or mentors, came to Iowa State University for a day on campus. 8th-grade students from Callanan, Harding, McCombs, and Meredith Middle Schools joined with 9th and 10th-grade students from East and Roosevelt High Schools for presentations, workshops, a tour of campus, and a chance to eat in a dining center.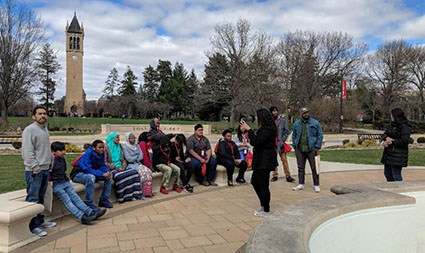 Middle school students and their chaperones attended a presentation by the Office of Admissions while high school students heard about Financial Aid. All the students had the opportunity to participate in a Game of Life simulation where they were offered careers based on their educational backgrounds and then had to make their way through a month of expenses with the salary they would earn. During lunch at the Union Drive Community Center Dining Hall, Lorena San Elias, one of the students in the first ISU 4U Promise cohort on campus this year, shared reflections about her first year at Iowa State.
(For more photographs from the 8th-10th grade Family Visit, check out Facebook.)
---
5th Grade Field Trip 2018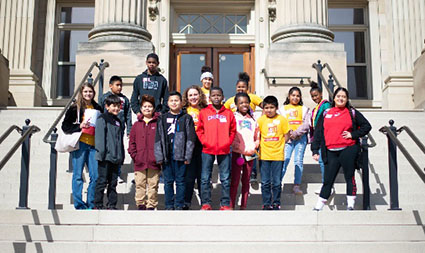 On April 19th and 20th, 2018, just before Prep Week at Iowa State, over 130 5th graders from ISU 4U Promise partner schools King and Moulton, were dropped off at the south entrance of Memorial Union to begin their day's adventure on the ISU campus. The 5th graders, along with their teachers and chaperones, were welcomed to campus by ISU student volunteers and staff. During their time at ISU, the 5th graders did an ISU trivia-based scavenger hunt around central campus visiting many of the iconic places and spaces such as the Campanile, Parks Library, Beardshear Hall, State Gym, Lake Laverne, and the Marston Water Tower. In addition, they had the opportunity to see what a real dorm room looks like in Eaton Hall (to which one student responded, "You get to LIVE here?!"). Students also had a chance to have lunch at the Food Court at the Memorial Union which elicited "You can eat anything you want – every day?!" from one hungry 5th grader.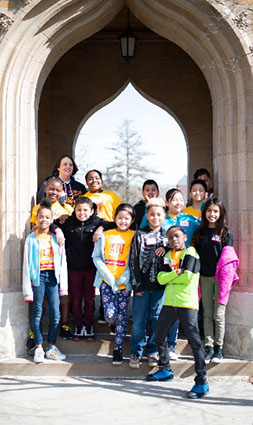 Part of their day was spent in the Gold Room at the Memorial Union where students participated in interactive hands-on activities. WISE (Women in Science and Engineering) Role Models facilitated an activity where students used circuits to light lights, buzz buzzers, and make fans spin. Dr. Cinzia Cervato and Dr. Jane Dawson (from the Geological and Atmospheric Sciences Department) talked about fault lines and also offered the 5th graders a chance to test the radioactivity of items (and each other!). From the College of Design's outreach program, Pete Evans (Coordinator for FLEx – Forward Learning Experience) brought in a 3D printer to watch in action and gave the youth a chance to try out an Oculus Rift taking them on a virtual roller coaster ride through campus. Clark Colby (Communications and Creative Arts Program Specialist for 4H Youth Development) challenged teams to build the tallest, most stable structure of notched cardboard.
After lots of walking, many new experiences, and the obligatory picture of their groups with the statue of Cy, these ISU 4U Promise 5th graders boarded their buses and headed back to Des Moines, hopefully with a new vision of themselves as future Cyclones – Class of 2029!
Need More Information?
ISU 4U Promise
1218 Lagomarcino Hall
901 Stange Road
Ames, Iowa 50011-1041