Christabel Forney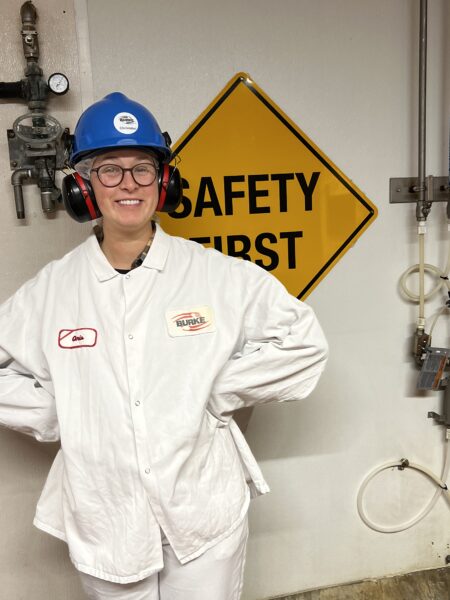 Responsibilities
As a Research and Development intern, I assisted the R&D Team in developing products for existing and potential customers. Included in this was aiding in test product formulation, manufacturing, packaging, production testing of ingredients, sensory testing, and preparation of samples for shipping. I also assisted in weighing, grinding, and mixing of ingredients and batches and was responsible for many cleaning aspects and general housekeeping such as assembly of equipment, cleaning, sanitizing, and organizing around the lab and benchtop.
Accomplishments
My greatest accomplishment during my internship experience at Burke was getting to work on my own new flavor idea for a product.
Learning experience
One of the lessons I learned from this experience is that you don't just get to work on your own projects. oftentimes situations come up within the company, such as supply chain issues with an ingredient, a customer wants a different formulation, or the company wants you to help save them money by switching products. Through these situations a large chunk of time is spent working on projects that you may not be as passionate about but are very important. While I enjoyed getting to work on my own projects it was a good lesson for me to learn that in my profession not all my work will always be fun or glamorous but that there is a balance between working on projects I have more passion for and others which I need to be happy to help on.
What advice would you give?
My advice for future students in my major is to put yourself out there and work hard. Make sure you get involved in your time here by going to the career fairs, joining clubs, or getting involved with intramurals, and be sure to make friends with your advisor; trust me, they really are there to help. Secondly, my advice in a job setting is to work hard wherever you are and keep a positive attitude. In my experience, companies really care about your willingness to learn and work hard because that's something they can't teach.
Career Connections