Madison Van Meeteren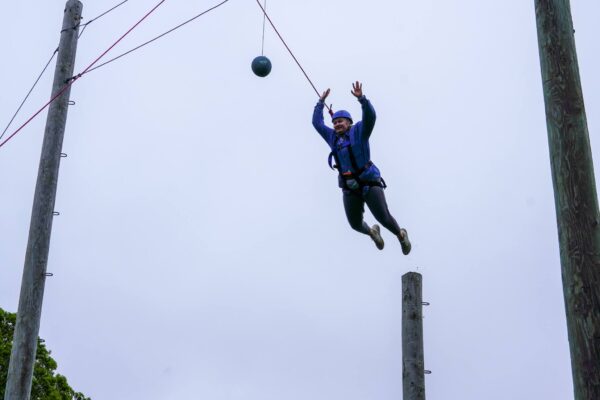 Responsibilities
My main responsibility during my internship as the Lodge Coordinator was to organize and implement the daily programming of Lodge camp for 4th-9th grade campers. Out of our eight-week summer camp season, lodge camp runs five times. For the other three weeks, I am in charge of coordinating Grand camp and Journey camp. Grand camp is a camp specifically designed for children and their grandparents. Journey camp is a special camp we offer at Inspiration Hills that is for at-risk children who come from troubled homes. Before summer camp began during my three weeks of training, I worked on adjusting and working on a schedule of what campers would be doing when they arrive at lodge, grand, and journey camps. Some of my smaller responsibilities included communicating and encouraging my counselors throughout the week, leading meetings and registration, and doing a lot of behind-the-scenes preparation work in order for the camps I coordinate to run smoothly.
Accomplishments
My greatest achievement during my internship experience was successfully implementing "Battle of the Bunks" at Lodge Camp. Each week at Lodge camp we have around six to seven bunks groups made up of approximately ten campers and a counselor. I had talked with the program director during my interview process and pre-camp meeting about how we could make Lodge camp special and unique. I put lots of thought into how I could do this and ultimately came up with the "Battle of the Bunks" idea. Battle of the Bunks is a weeklong competition where each bunk group competes in activities and games to earn points for their team. At the end of the week at the final bonfire, I announced the winners. The grand prize for the bunk was a few special privileges. They got to have their bunk group photo printed off to be displayed in our game room, got to sign their name on our large Battle of the Bunks sign, and get a picture of their group to take home. Each bunk group was assigned colored bandanas and had the chance to think of a name and chant. We had some pretty fun names such as The Pink Pickles, The Awesome Avocadoes, and Boss Boyz. It was awesome to see how much this competition increased the bond and comradery of the campers in the groups. This ultimately helped Lodge camp have its own special event, as well as giving the kids something to remember about their summer camp experience.
Learning experience
During my time as Lodge Coordinator, I learned so many lessons, some big some small, but ultimately each one helped me grow in confidence as a leader. One of the biggest things I learned was that plans will never go perfectly or just as you planned them. Life happens and we get thrown into situations we may never have expected, especially at a summer camp. I learned to think on my feet and stay calm throughout these times. Another lesson I learned was that building relationships and networking are a key part of the internship process. Throughout my summer I was able to meet so many new people through the summer staff, full-time staff, and also the chaplains and volunteers. I would say that making these relationships was almost as important as the knowledge that I learned during my summer. One final lesson I learned over the summer was that rest and taking a break are essential to being successful. Towards the beginning of the summer, I was always working and putting so much time into my job that I became burnt out physically, mentally, and spiritually very quickly. After realizing this, I found I actually was more efficient and did my work better when I came back from a small break and was well-rested.
What advice would you give?
There are many small pieces of advice that I would offer to future students in my major. The biggest thing I would want people to know is that they should find a job within the event industry that they enjoy and are interested in. Event management is unique in the fact that it can be applied and used almost anywhere. Whether that be in sports, weddings, travel, or even at a summer camp! I would encourage people to tailor their job or internship to their interests. Another small piece of advice that was given and helped me was that when you are looking for an internship, the title doesn't have to be "intern." My title at Inspiration Hills was technically a coordinator, but my responsibilities and duties fit all those that I needed for it to be an internship.
Career Connections