Empowering Spanish speakers through food safety training
Faculty News
Diversity and Social Responsibility News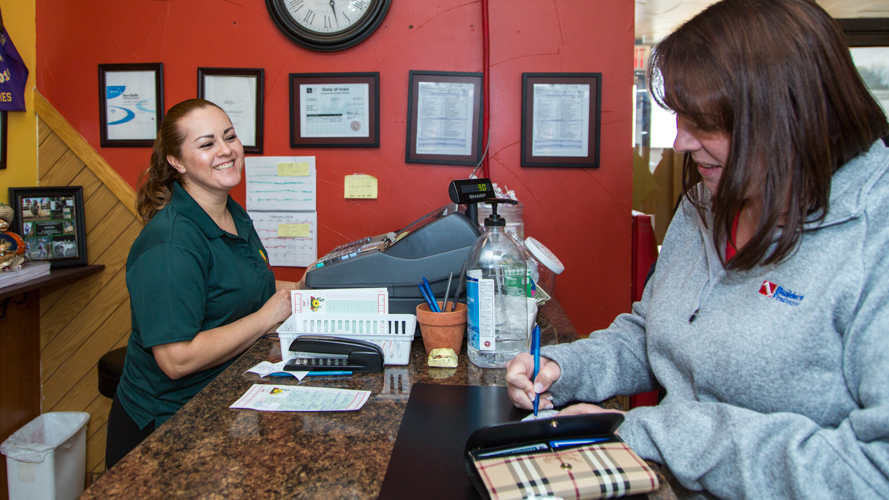 As assistant manager of Las Flores restaurant in Iowa Falls, Vanessa Orozco knows food preparation is vital in ensuring the success of her restaurant.
"Learning how to manage food so you don't make customers ill is important," she said.
Orozco obtained her food safety certification by enrolling in ServSafe, a food safety course offered by Human Sciences Extension and Outreach in English and Spanish.
Human sciences specialist Mary Krisco teaches ServSafe in Spanish and had Orozco as a student.
"Every food establishment in Iowa has to have at least one employee per site that is certified in food safety," Krisco said.
Earning a food safety certification can be difficult when the accompanying course is not available in a food service professional's first language.
"Some food service operations are staffed almost entirely by Spanish speakers," she said. "In those cases, passing the ServSafe course is a matter of economic survival."
An estimated 48 million people get sick each year from foodborne illnesses, according to the Centers for Disease Control.
"When you consider that up to 25 percent of the people in food service are Spanish-speaking, it's really important to everyone's health that Spanish speakers are just as well trained in food handling as English speakers are," Krisco said.
Twelve human sciences specialists taught ServSafe to 2,133 Iowans in the 2016-2017 fiscal year. Seventy of those participants took the course in Spanish. Those enrolling came from all types of retail establishments — from the local diner to fine dining, convenience stores, bars and taverns, golf courses, and mobile food trucks.
To guarantee Iowa consumers stay safe and healthy, Krisco and other specialists work to instill a culture of food safety with ServSafe that they hope will last long after the training is over.
"When these students earn their certificate, I tell them it means they become the person in charge of food safety at their operation," Krisco said.  "As the person in charge, one of their biggest jobs is to convince the entire staff that food safety is everyone's most important responsibility."
Key contacts
Mary Krisco, human sciences specialist, ISU Extension and Outreach, 515-957-5787, mkrisco@iastate.edu
Catherine Strohbehn, state specialist, Human Sciences Extension and Outreach; adjunct professor, Department of Apparel, Events, and Hospitality Management; Iowa State University, 515-294-3527, cstrohbe@iastate.edu
Emily Stearney, communications assistant, College of Human Sciences, Iowa State University, hsupdate@iastate.edu
News