Jane and Chuck Olsen champion inclusion through giving
Diversity and Social Responsibility News
Alumni News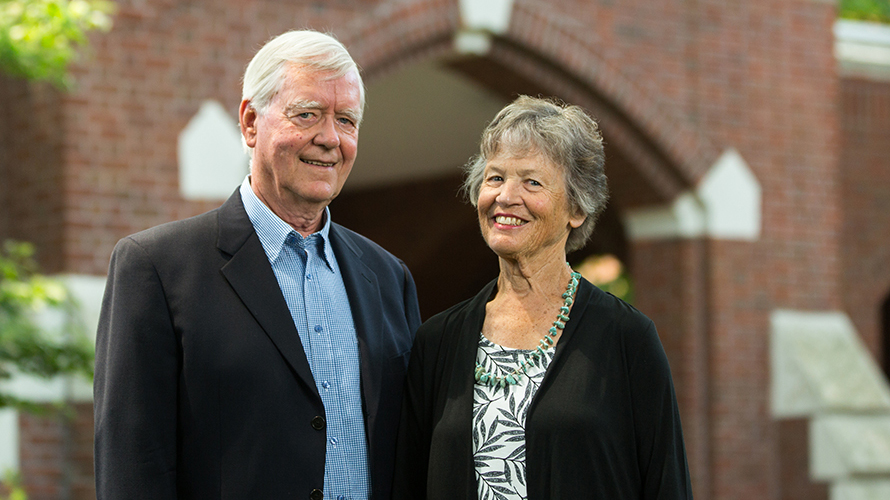 As a freshman coming to Iowa State University in 1956, Jane Fulton Olsen ('61 child development) moved cross-country from California to connect with adventurous people.
"I didn't know a soul when I came to Iowa except my 'big sister' in the dorm. Just getting to know the Midwest farm country was a new experience for me. Being from southern California, I had also been exposed to more diversity in the community," Olsen said.
The background of Jane's husband, Chuck Olsen ('60 agricultural engineering), was more homogeneous.
"Coming from a rural Iowa community, a farm community, the only diversity I can remember is the country kids and the townies," Chuck said. "Diversity wasn't even a term I had ever heard of or experienced."
Jane didn't only win Chuck's heart. She introduced him to a world of diversity.
Now married for 57 years, the Olsens have embraced diversity in many ways, including hosting an exchange student from Spain. Jane credits her mother, who had several friends from different cultural backgrounds and socio-economic levels, with nurturing her receptiveness to a variety of people and an interest in how they live their lives.
"Stepping out of your comfort zone is not always easy to do but it's very rewarding and enriching to meet people from different walks of life," Jane said. "When you make that effort, you may also be a model for your friends and neighbors."
Chuck agrees.
"As we share the experiences that have exposed us to diversity in society with others, we have had great discussions," Chuck said. "It becomes quite contagious."
Where inclusion starts
Today, the Olsens are creating a new scholarship at Iowa State for undergraduate students who are preparing to teach and work with children from birth to kindergarten and with their families. The scholarship will be available to students who represent diversity and inclusivity in the college community.
"For students who are learning to be teachers, it's ever so important that they are sensitive to children with families who may have different cultural traditions," Jane said. "It may start with the teacher who works with young preschool children and their families."
Both Olsens think having opportunities in college to know and respect people who come from different backgrounds, including faculty, are important for students and their development.
"Their educators need to be from different groups," Jane said.
What happens at Iowa State sets off a ripple effect, Chuck said.
"As these students move into life and relate to professionals, they are influencing people who work as clients or others who report to them," Chuck said. "What an opportunity to influence! It's a very, very broad impact."
The Olsens' dedication to diversity is a perfect example of why it is so important for alumni to give back to their alma mater. The ripple effect of the Olsens' generosity will be felt for generations to come. Their legacy will be everlasting, something not many people can claim.
But you could.
As an Iowa State alumni, there are countless opportunities for you to make an impact that will last for generations. Find out how you can establish your own legacy here at Iowa State University by visiting hs.iastate.edu/alumni/giving or calling Molly Parrott, senior development director at 515-294-4607.
Key contacts
Cathy Curtis, communications director, College of Human Sciences, ccurtis@iastate.edu, 515-294-8175.
Isaac Sinclair, communications assistant, College of Human Sciences, hswriter@iastate.edu, 515-294-1326.
News