National Fellowship to prepare graduate student for future in research
Student News
Research News
With the goal of one day running his own research lab, food science and human nutrition graduate student Graham Redweik recently received a predoctoral fellowship that will give him the experience needed to find success in the future.
Redweik was one of 75 individuals nationwide awarded a United States Department of Agriculture National Institute of Food and Agriculture (USDA-NIFA) Predoctoral Fellowship. Funding from the fellowship will run through fall 2020.
The purpose of the fellowship is to prepare the next generation of scientists in the areas of food, agriculture, natural resources and human sciences.
Funding from the fellowship will further Redweik's research involving salmonella in poultry. Chicken exhibit minimal to zero signs of disease when colonized by salmonella, starkly contrasted by the severe illness people experience when salmonella-contaminated food products are consumed. In fact, chicken and eggs are the primary source of salmonella infection. Redweik and fellow researchers will try to determine how salmonella can live in a chicken's gut.
This fellowship will give Redweik experience mentoring his own team of undergraduate students and help increase his publication count.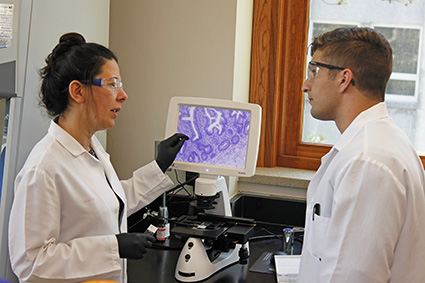 "It allows me to pursue answers for unique questions related to my research and thesis," Redweik said about the research project.
"This fellowship will give a great opportunity for him to become more independent, but also do basic research that will provide new insights into the salmonella contamination in chickens. Graham has a great lab environment to achieve these goals under my supervision," Assistant Professor Melha Mellata, Redweik's major professor, added.
Last summer, Redweik completed a summer research internship with the National Institutes of Health, an experience that strengthened his application for the fellowship and provided him with additional background in studying host-bacterial interactions in the gut. Redweik plans to apply this expertise to his own project to further characterize the peculiar relationship between chickens and salmonella.
Redweik feels it is essential for researchers to gain an understanding of salmonella to better protect food and human health.
"One of the most important ways to impact human health is to improve the food people consume," Redweik said.
Key Contacts:
Graham Redweik, graduate student, Food Science and Human Nutrition, gredweik@iastate.edu

Melha Mellata, assistant professor, Food Science and Human Nutrition, 515-294-9220, mmellata@iastate.edu

Whitney Baxter, communications coordinator, Food Science and Human Nutrition, 515-294-9166, wjsager@iastate.edu
News